Već počinje i ovogodišnji festival u Cannesu, a u naša kina došao je prošlogodišnji dobitnik nagrade žirija – Tovar (Eo, 2022). O njemu pomalo, ali bez prestanka slušam od tada i veselila sam se pogledati film čiji je glavni glumac magarac. Da, dobro, imali smo mi magaricu Jenny u mom najdražem filmu na Venecijanskom festivalu – Duhovi otoka, ali ona je bila sporedan lik. Eo u filmu Tovar druga je priča. Zanimalo me i kako će jedan film zadržati pažnju, ako mu se priča odnosi samo na magarca.
Zahvaljujući trajanju od nešto više od 90 minuta, Tovar uspijeva zadržati pažnju i zanimanje publike. A to zanimanje zadržava i zahvaljujući izričitom kadriranju magarca kao protagonista, biranju basnolike priče za radnju i vjeri da će publika bez pretjeranog objašnjavanja (ili nedajbože moraliziranja) ipak uspjeti povezati nit vodilju.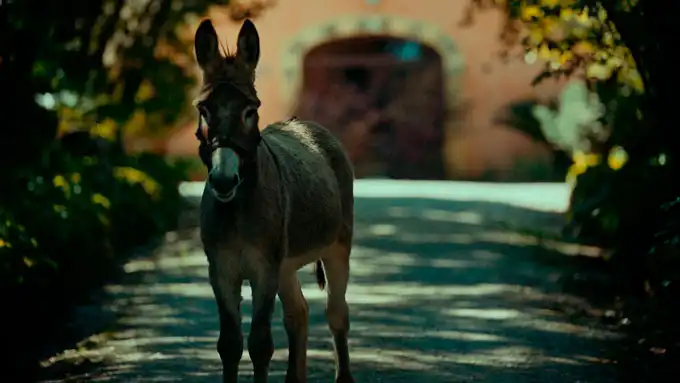 Eo svoju priču započinje na pozornici. Živi u cirkusu s trenericom Kasandrom i nastupa pod crvenim stroboskopskim svjetlima. Naznačuju li ona njegovu patnju ili njegovu osobnost ili čak privrženost možda je namjerno ostavljeno dvoznačno. Borci za prava životinja su u svakom slučaju sigurni da znaju što je za Eo-a najbolje, pa ga 'oslobađaju' iz cirkusa. Kao što to obično biva, novostečena sloboda koju nisi tražio nije nužno poboljšanje stanja.
Eo završava na farmi konja gdje on radi dok se konji šepure i dresiraju. To mu se ne svidi pa on… Pobjegne. U svom bijegu, on se nađe u šumi usred lova, na nogometnoj utakmici, na farmi za djecu s posebnim potrebama, čak i usred imigracijskog skandala i incesta. Svaka od epizoda u kojoj sudjeluje služi kao alegorični prikaz mračne strane ljudske prirode.
Štoviše, u samoj srži Tovara nalazi se krik za očuvanjem prirodnog svijeta. Namjerno ne koristim riječ spas jer ga ne treba spašavati. Ne, ako ga se poštuje. Borci za prava životinja 'spašavaju' Ea, ali bez razmišljanja o tome što Eo smatra spasom. Lovci (možda čak i krivolovci) u toj idealističkoj mračnoj šumi zelenim laserima režu kroz mrak. Skolimowski njihove nišane čini prijetećima iz Eove perspektive. Oni ga možda 'spašavaju' predatora, ali to redatelj nipošto ne kadrira kao nešto pohvalno.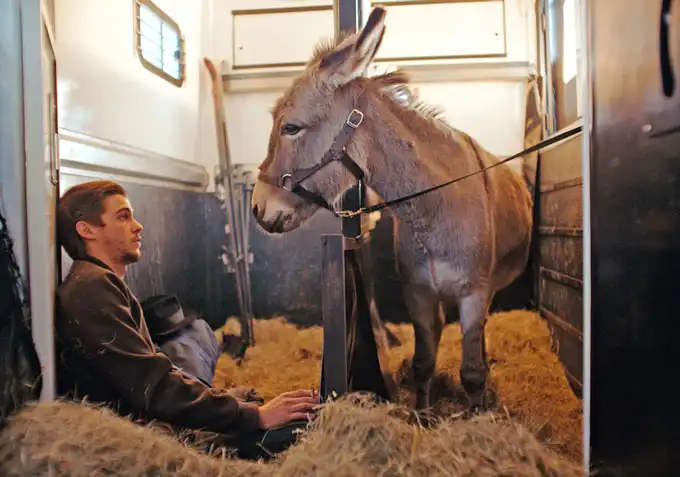 Iako svaka od ljudskih priča u kojima Eo sudjeluje služi da pokaže kratak pregled boljki (poljskog) društva, neki od ljudskih likova produbljuju melankoliju ljudske propasti. To nažalost nije trenerica Kasandra koja je i malo previše privržena svom magarcu. Ali to je zato vozač kamiona kojeg upoznamo vrlo kratko. Ali njegova usamljenost je bolno opipljiva i u tih nekoliko trenutaka. On migrantici ponudi ranu i onda je uplaši iz kamiona neukusnom šalom. To je i samotni putnik koji kod kuće ima svo bogatstvo, ali traži propast.
Zbog tih niti priče ne iznenađuje ni kraj – kako Tovara tako i Ea. Kroz film pratimo propast čovječanstva bilo zbog nepromišljenih odluka, bilo zbog agresivnih ispada. I svjedočimo tome kako je Eova mirna egzistencija postaje žrtvom ljudskog djelovanja. Kako Eova tako i egzistencija cjelokupnog životinjskog i prirodnog svijeta.
OCJENA: