Svatko se u nekom trenu zakači za temu o kojoj će uvijek pogledati film, a Sjeverna Irska je jedna od mojih. Počelo je na faksu i kolegiju o Kulturi Irske. Čak sam na temu Sjeverna Irska na filmu trebala pisati i diplomski rad. Možda me baš zato što sam zakačena na temu film Belfast (2021) toliko dirnuo.
Sjeverna Irska je posebno zanimljivo mjesto. Gotovo tisućljetna prisutnost Engleza na otoku ukorijenila je podjele među našima (Ircima, katolicima, potlačenima) i vašima (Britancima, protestantima, kolonizatorima). Kenneth Branagh (Britanac, njihov, protestant) filmom Belfast vraća se u 1969. godinu taman negdje zadnji period prije nego što situacija postane potpuno podjarmljujuća.
Belfast prati meni inače napornog lika – dijete koje interpretira što se događa u svijetu odraslih. Srećom pri izboru Buddyja, Brannagh je odabrao najsimpatičnijeg dječaka mogućeg. Tako da je Buddy (Jude Hill) veoma prihvatljiv glavni lik. Priča počinje jednog popodneva na ulici u kojoj normalno žive i katolici i protestanti. Samo što neki protestanti u ime svih odluče da se katolike treba deložirati. Vatrom i kamenjem.
Buddy koji se vraća na ručak nakon iscrpljujućeg popodneva borbe sa zmajevima i drugim dječačkim fantastičnim bićima ukameni se kada vidi što se događa u ulici. Tu ulijeće majka koju Brannagh kadrira kao Wonder Woman koja poklopcem od kante za smeće Buddyja brani od kamenja. To je pametan potez jer nam odmah daje do znanja da gledamo film koji je obojan nostalgijom, dječačkim sjećanjima i preuveličavanjima koja se nakupe u dalekim sjećanjima.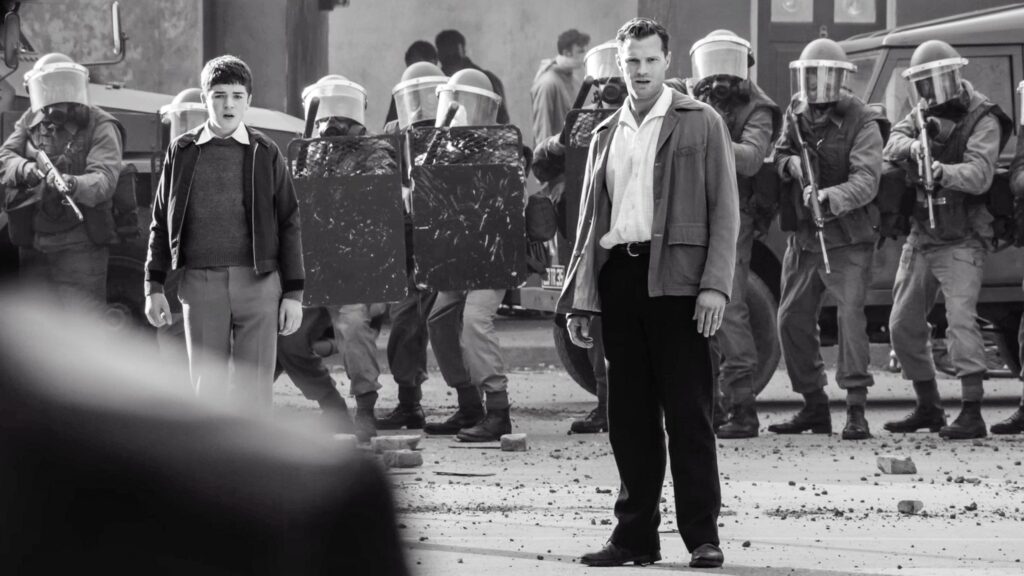 Jasno je da je Buddyjeva obitelj bliska i da se mogu osloniti jedni na druge. Kad nije s mamom i bratom, druži se u toploj kući djeda i bake. Jedino se tata pojavi svako toliko jer inače radi u Engleskoj. Posao ide dobro i više puta pokušava mamu nagovoriti da se svi skupa presele u Englesku. Mama se nećka. Belfast je mjesto u kojem su zajedno odrasli, gdje imaju obitelj, gdje u cijeloj zajednici paze jedni na druge. U Engleskoj ih nitko neće razumjeti zbog naglaska, boji se mama. Ipak, što više nasilje eskalira, to joj je teže opravdati zašto toliko inzistira na tom mitskom mjestu koje nazivamo dom.
Film Belfast po meni je Brannaghov Građanin Kane (Citizen Kane, 1941). Što zbog boje, što zbog kadriranja, a najviše zato što je ovo Brannaghovo remekdjelo. Djelomično baziran i na Brannaghovoj vlastitoj priči, Belfast o Sjeveru govori kroz život jedne od obitelji u ulici. Ne zanimaju ga previše borci za prava i slobodu. Štoviše prilično je jasno što o njima misli. Posveta na kraju posebno pogađa, jer povijest je uvijek iza ugla čak i u modernom Belfastu. Rijetko je Belfastu snimljeno ovako emotivno ljubavno pismo. Pripremite maramice. 
OCJENA: