Malo sam se bojala pogledati novu Dinu u kinima. Ne znam ništa o knjigama, o drugim filmovima, o raznim verzijama niti o utjecaju priče na ZF stvaralaštvo. Znam da je to kultni klasik, znam da se film smatra nesnimivim. Doduše, takve glasine najčešće se prošire iz Hollywooda onda kada im projekt propadne tako da ih nije nužno shvaćati tako fatalistički.
Štoviše, drago mi je izvijestiti vas da je Dina (Dune, 2021) ugodno kino iskustvo čak i kada niste upoznati s materijalom i njezinom problematičnom prošlošću. Redatelj Denis Villeneuve uspješno kombinira privatne trenutke vladara kuće Atredis koji kao da pripadaju u srednjovjekovnu dramu da bi se u idućoj sceni prebacio u impresivne totale svemirskih bitki. U jednom trenu ćulimo uši kako bismo shvatili o čemu šuškaju dvorska šaputanja, u drugom razgoračimo oči u strahu za glavne likove među masivnim iskapačima, letjelicama i ratnicima.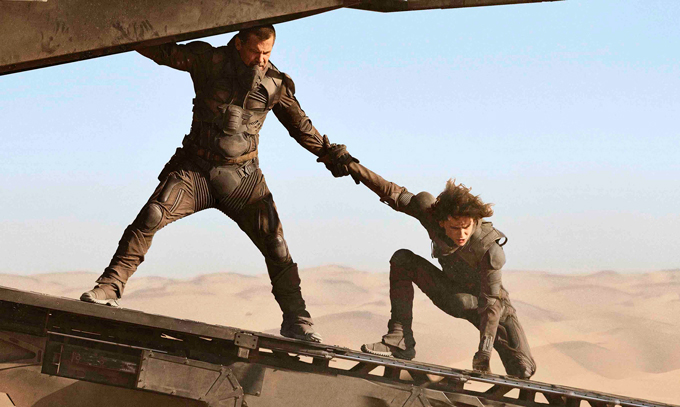 O čemu je ukratko riječ za laike poput mene? U priču Dine ulazimo u trenutku kada vojvoda Atreides od galaktičkog Cara dobiva planet Arrakis u leno. Arrakis je strateški presudan jer se na njemu iskapa 'začin' bez kojeg je svemirski let nemoguć. Dosad su Arrakisom vladali (tj. pljačkali) Harkonneni, a starosjedioci Fremenci su pokušavali održati svoju zajednicu usprkos njihovoj invaziji.
Iz razloga koji je možda naznačenu u filmu, ali ja sam ga propustila, Leto Atreides (Oscar Isaac) je po novom nalogu cara zadužen za iskapanje začina,. Barunu Harkonnenu to naravno ne odgovara, pa ima svoje tajne planove kako ovu situaciju ponovno vratiti u svoju korist. Upravo je njegova pohlepa poticaj za ratovanje koje će započeti na Arrakisu.
S druge – mračnije i zlokobnije strane, tu su Bene Gesserit. One su red žena sa posebnim moćima koje iza kulisa pletu plan kako zavladati tj. upravljati galaktikom. Jedna od njihovih pripadnica je i Jessica Atreides (Rebecca Ferguson) koja je rodila nasljednika Atreide Paula (Timothée Chalamet). Ona želi uvjeriti Bene Gesserit a tako i cijelu galaksiju kako je Paul Odabrani.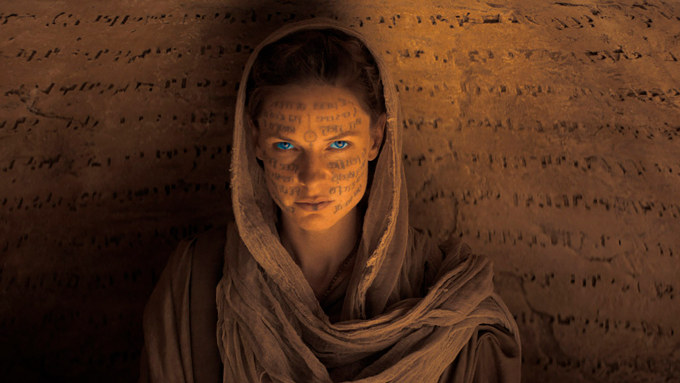 Priča Dine je impresivna utoliko što je ujedno i galaktička i intimna. Chalamet je u nezavidnoj poziciji gdje je njegovo previranje između straha, ozbiljnosti i odgovornosti okosnica filma. Vrlo često se u scenama postavlja baš kao Hamlet koliko god bi njegova majka htjela vidjeti Isusa Krista.
Chalamet je posebno potreban filmu Dina jer sa svim glumcima uspijeva ostvariti neku neponovljivu kemiju. S majkom se osjeti želja za dokazivanjem i strahopoštovanje, s ocem tu je poslušnost i divljenje, kod odnosa s Brolinom je hladnoća nerazumijevanja dijametralno suprotna onoj iskrenoj prijateljskoj ljubavi prema Momoi u čiju odanost lako povjerujemo. (Mala digresija da posebno spomenem kako je Momoi mapokon netko dao priliku da malo napregne svoje glumačke mišiće i zbilja se isplatilo!)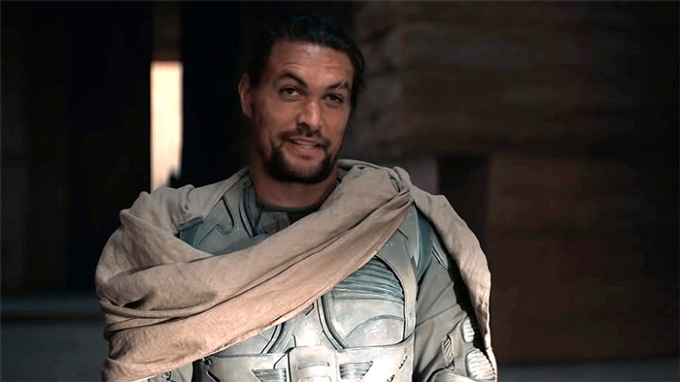 Što se tiče negativnih elemenata, oni su nažalost ili nasreću izvan samog filma. Vrlo je hrabro i pomalo drsko svoj film nazvati Dina – Prvi dio bez da je drugi dio još odobren. Onda opet, možda je to samo marketinški trik. Ali ono na što utječe ovaj povuci-potegni između stvaratelja i financijera je dinamika filma. Ima jedan prirodan moment kraja koji dolazi nakon napada na obitelj Atredis. Sve što dolazi nakon toga kao da pripada drugom nastavku. Presedan već postoji u obliku Gospodara prstenova koji su film briljantno podijelili u njegove prirodne cjeline. 
Ali što je tu je. U svakom slučaju, bitno je potvrditi da je Dina film zbog kojeg se vrijedi ustati s kauča i odgegati do najvećeg mogućeg platna. U priči Dine dodiruju se pitanja kulta ličnosti, potrebe za nekim dubljim značenjem, kao i megalomanske pohlepe za bogatstvom i moći. Dina nije nešto nikad viđeno, ali je u njoj zasigurno nešto svevremensko.
OCJENA: