Film Babylon (2022) sigurno nije za svakoga, ali je li to uopće film za ikoga? Očito jest. Jedan od voditelja podcasta The Big Picture kojeg iznimno cijenim potpuno je impresioniran i smatra Babylon uspješnim izrazom svih razloga zašto volimo filmove. Njegov stav bio je i jedan od glavnih razloga zašto sam se ipak natjerala pogledati film. Ali ne mogu reći da sam ga razumjela. Ni njegov stav, ni film.




Ništa nije išlo na ruku filma Babylon. Njegov redatelj Damien Chazelle zadivio me mračnim Ritmom ludila (Whiplash, 2014). No, La La Land (2016) me ni na ponovno gledanje nije dirnuo. Foršpan za film Babylon bio je nerazumljiv i bombastičan. Prikladno se prikazivao prije filma Amsterdam (2022) s kojim dijeli kaotičnost vizualnog izražaja i glavnu glumicu. Pridodajmo tome i trajanje filma. Teško se natjerati dati mu pažnju i priliku filmu na tri sata kada se reklamira kao uzavrela dekadencija, naizgled bez glave i repa. Nažalost, ako se prema filmu može uputiti pokoji kompliment, jedan od njih je da foršpan daje pravi dojam filma.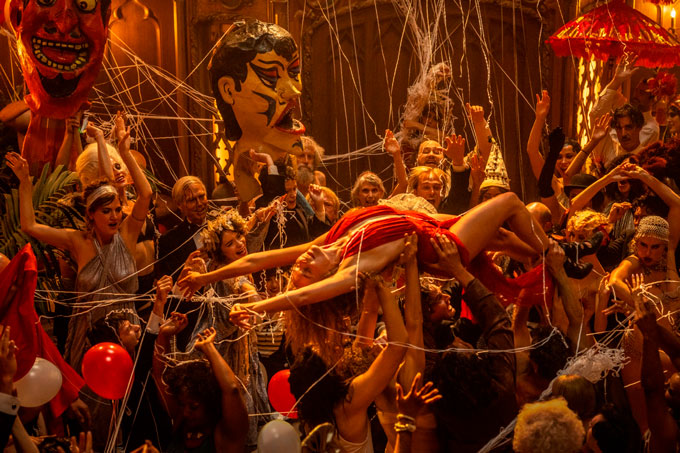 Film Babylon želi biti priča o nastanku i razvitku filmske industrije. Djelom omaž ljudima koji su stvorili klasike koji nas i danas inspiriraju i raznježuju, djelom moderna prerada filma Pjevajmo na kiši (Singin' in the Rain, 1952). Brad Pitt je Jack Conrad, nezamjenjivi glumac nijemog filma. Margot Robbie je rođena zvijezda u usponu, Nellie LaRoy – ujedno naravno i izmučena duša ovisna o drogama, alkoholu i promiskuitetu. Između ostalih povezuje ih Manny Torres (Diego Calva), nevini i nadobudni imigrant koji želi biti dio 'nečeg većeg', tj. dio filmske industrije. 
Ali umjesto da Chazelle iz klasika o kojima govori uči, on od klasika radi jeftini šou. Ne kapira da ako stvaraš metaforu trebaš izgraditi temelje u čvrstoj priči koju onda kitiš svojim 'posebnim dodirom'. To se ne postiže nakupinom scena u kojima je Brad Pitt super zabavan jer se ruga Bradu Pittu prije nego padne preko živice. Niti s Margo Robbie koja se jedva prekrivenih grudi ide tuči sa zmijom. Trebaš priču – može i potpuno jednostavnu, bajkovitu, ali iskrenu priču na koju možeš nakačiti svoje napuhane scene, nacifrane sekvence i naprasne replike.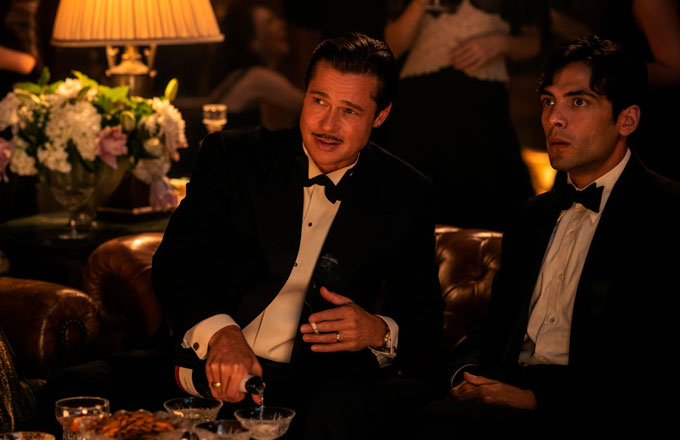 Umjesto na priču, Babylon se oslanja na farsu i tjelesne izlučevine kao izvor humora, a na vrisku, pompu i vrtoglavicu kao temelj redateljskog talenta. Ništa od toga nije inherentno loše ako se spaja u smislenu cjelinu. Ali nisam jedina koja Chazelleu predbacuje potrebu da scenu stavi u veš mašinu, a svaku sljedeću provuče kroz jaču i jaču centrifugu.




Jedan od najzanimljivijih dijelova filma je prikaz problema s kojima se filmska ekipa susreće pri snimanju filmova sa zvukom. Prava parodija se postiže brzim rezovima među ponavljanjima, unašanjem u krupne kadrove preznojenih, izmučenih lica i zvučnom kakofonijom isprepletenih glasova. Ali koristiti ovaj umjetnički odabir kroz cijeli film postane zamorno.
Gledati film Babylon dezorijentrajuće je iskustvo. Kao da gledam TikTok isječke 3 sata i iz njih moram interpretirati sveobuhvatnu cjelinu. A po mogućnosti im dodati i emocionalno dirljivu notu. Bio je to veoma ambiciozan pokušaj. I nije uspio.
OCJENA: