Da se nisam prije par mjeseci prisustvovala projekcijama filmova redatelja Paula Verhoevena u Kinu Kinoteka, mislim da nikad ne bih otišla u kino pogledati film o lezbijskim časnim sestrama u srednjem vijeku koje je režirao osamdesetrogodišnji muškarac. Dovoljno mi je bilo patiti uz srednjovjekovnu propovjed o položaju žena u društvu njegovog vršnjaka Ridleya Scotta. Ali baš zahvaljujući tome što sam se upoznala s Verhoevenovim opusom me film Benedetta (Benedetta, 2021) posebno zaniteresirao. Što to Verhoeven može imati za reći o redovnicama i kršćanstvu?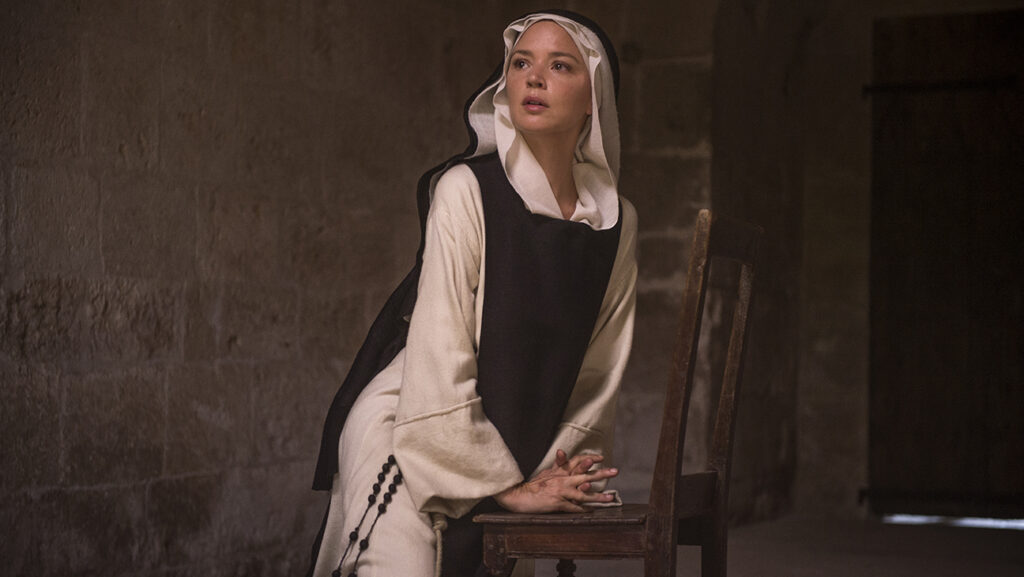 Ispada da ima za reći mnogo i slojevito. Benedetta je film o istoimenoj redovnici (Virginie Efira) kojoj se odmalena ukazuje Djevica Marija i Isus Krist. Kada uđe u samostan, ona je poslušna iako dosta svojeglava. Kako i ne bi bila kada joj se odabranoj ukazuje sin božji. Problemi nastaju kako su nas uvijek učili – put u pakao popločan je dobrim namjerama. Naime, kada Benedetta zamoli da se djevojku s ulice primi u samostan, prvi put sazna i što je to žudnja. Mic po mic, baš kao što napreduje veza između nje i njezine štićenice Bartolomeje (Daphne Patakia), napreduju i njezine vizije, a Benedettin položaj raste sve do nadstojnice doma. Ponekad čak sam bog progovara kroz nju.
Ono što ovaj film čini drugačijim od drugih vjerskih filmova koji pomiču granice, je Verhoevenov redateljski stil. Zašto bi Isus zmije koje napadaju Benedettu teleptski odmahnuo s nje kad ih može uz mnogo krvi sasjeći s nje mačem? Zašto bi veza između redovnica bila natuknuta kad njihov seks Verhoeven može staviti u prvi plan, a onda ih začiniti izradom dodatnih pomagala?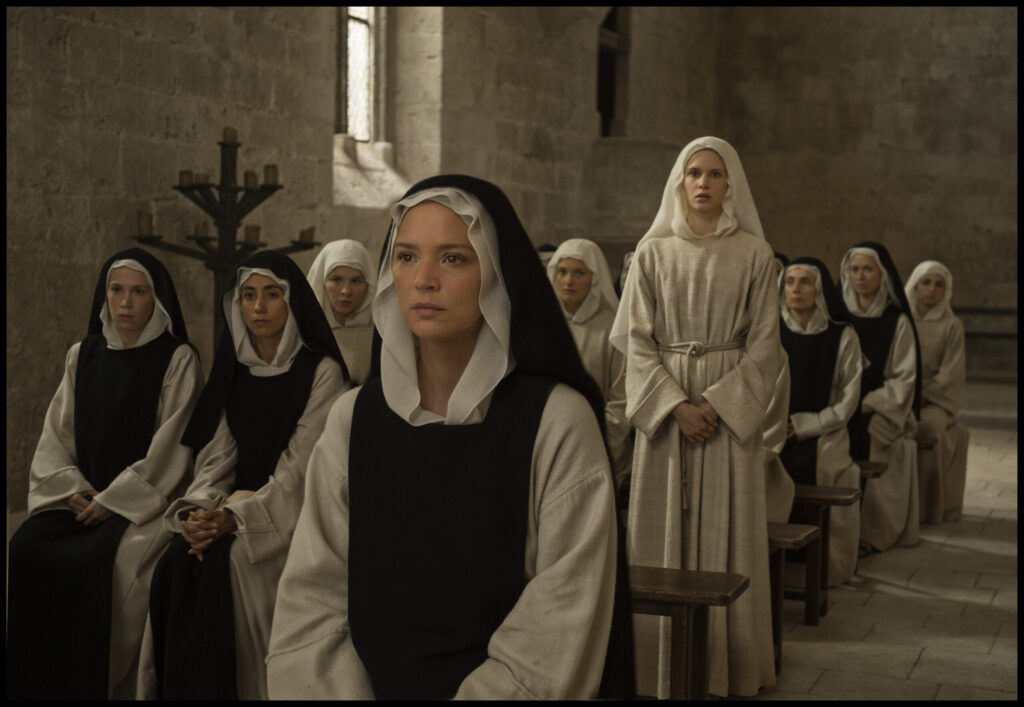 U mnogočemu, ovaj film ne bi funkcionirao da nije uobličen u Verhoevenovu estetiku. Bio bi ili previše pobožan ili previše olak. Zahvaljujući njemu, mit o selu koje je u sedamnaestom stoljeću zaobišla kuga dobiva osobnije, tj. prizemnije značenje. Postavljaju se pitanja o istinitosti i vjeri. Ali i o autoritetu, želji za moći i opojnim učincima seksualnosti. Posebno efektna bila mi je posljednja scena u kojoj Benedetta izlazi iz špilje i odlučuje se vratiti u samostan pomoći. Je li Benedetta cijelo vrijeme bila metafora za Isusa? Ima se tu svašta za iščitati… Ako uspijete preći preko lezbijskih redovnica, to jest.
OCJENA: