Voljela sam pogledati Karate Kida svaki od mnogih puta koje se reprizirao na nekoj od lokalnih televizija. Uživala sam u meditativnim scenama bojanja ograde, poliranja automobila, te vježbanja tajnog udarca na stupovima u moru u suton. A bolji trenutak od pobjede bila je samo scena u kojoj gospodin Miyagi napokon uspijeva uloviti muhu štapićima, ali se time ne hvali Danielu. Ipak, makar dobro poznavala Karate Kida, nikad nisam mislila da mi treba nastavak, a kamo li nekakava serija na istu temu trideset pet godina kasnije.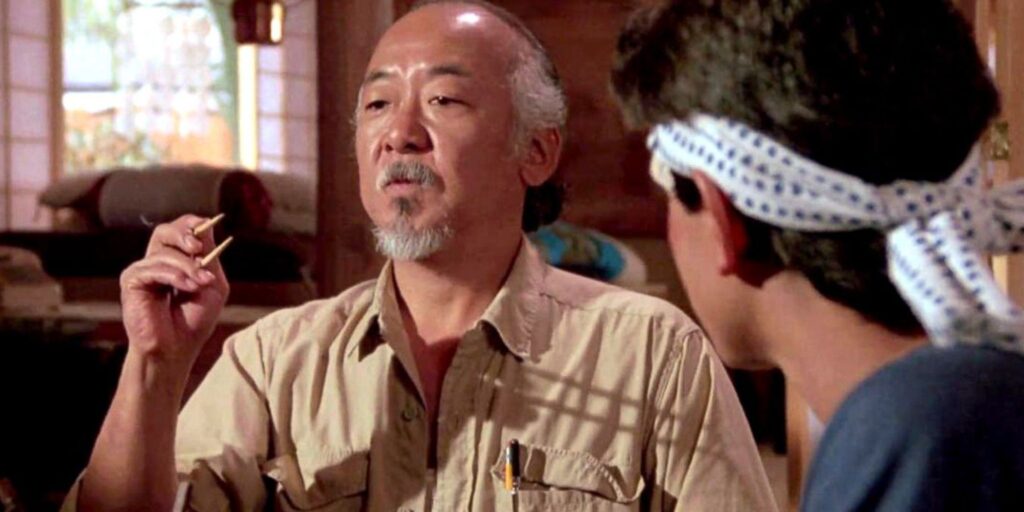 Ali Cobra Kai nije samo brzinski sklepani nastavak filma kako bi se izmuzlo što više novaca od zaluđenih obožavatelja. Ova serija svoje obožavatelje kao i svoju materiju tretira s poštovanjem i odgovornošću. To se da naslutiti od samog početka pa i naslova u kojem Cobra Kai za svog junaka odabire dosadašnjeg negativca Johnnyja Lawrencea. On je gubitnik koji previše pije, previše psuje i previše je ogorčen na cijeli svijet, a pogotovo na uspješnog prodavača automobila – svojeg prijašnjeg suparnika Daniela LaRussoa.
Sukladno pretpostavci, ne treba dugo da se ova dvojica ponovno sukobe i to na jedini način na koji znaju rješavati konflikte – karateom. Da ovo ne bi bila samo drama o dvojici nezrelih muškaraca opsesivno zapelih u svojim najboljim godinama, oni regrutiraju učenike i moć karatea kao i stare netrpeljivosti prenose na mlađe generacije.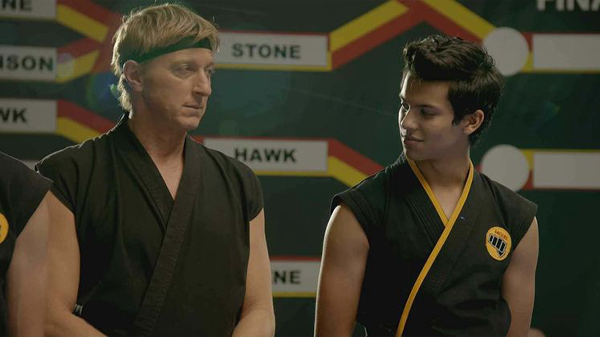 Vjerojatno najupitniji potez serije Cobra Kai je da se fizičko i psihološko nasilje likova kao što su Johnny, Kreese i njihove učenice Tory objašnjava time da su i sami trpili takav tip nasilja u mladosti zbog čega su postali nasilnici. Bez da vam odam što se dogodi, obratite pozornost na Lipa tj. Hawka tijekom tri sezone, pa sami doneste zaključke o tome veliča li serija nasilje ili ga osuđuje. Meni je poruka bila dovoljno jasna.
Cobra Kai je neobično dobro i s prividnom lakoćom postigla onu vrstu šarma koju akcijske komedije pokušavaju doseći od osamdesetih i nikako da uspiju. To je vjerojatno zato što Cobra Kai ne zazire od svoje prošlosti, već originalne filmove koristi kao temeljne i neizmjenjive događaje u svojem svijetu na veselje fanova koji dobivaju priliku vidjeti gotovo sve važnije likove koji su se nekad pojavili u filmovima Karate Kid.
S druge strane, Cobra Kai ne ublažava svoje udarce – da se žargonski izrazim. Serija nije pisana da se svidi svakome i ne pokušava razrijediti ili ušabloniti svoje likove da bi bili prihvatljivi široj publici. Johnny od prve epizode ima oštar jezik, naglu narav i britki sarkazam. Zato što mu to pristaje, lik nam je uvjerljiv. Kad su nam likovi uvjerljivi, serija nam je uvjerljiva.
Vjerojatno je vezivo koje Cobra Kai čini toliko boljom od nekih obrada koje nam bude i neugodno gledati ljubav scenarista i producenata prema originalnim filmovima. Zahvaljujući svojoj opsesiji, oni oblikuju tridimenzionalne likove koji i upitnu radnju ozbiljno shvaćaju. Ne vidim razlog zašto se serija ne bi svidjela i novim gledateljima, ali za sve nas koji smo odrasli uz Karate Kida, nema ljepše posvete idealima mladosti.
OCJENA: