Neka nitko ne kaže da nema dobrih filmova na Balkanu! Deset u pola (2021), novi film Danisa Tanovića (također poznatog i po prvijencu Ničija zemlja, 2001) nasmijat će, zabavit će i omekšat će romantika koliko i cinika u publici.
Film Deset u pola prati dvije obitelji – Hadžihadžić i Mulahadžić – čiji očevi Enis (Branko Đurić) i Izo (Izudin Bajrović) vode ćevabdžinice u centru Sarajeva. Oni svoje restorane vode različitim stilovima, a njihova djeca su pred ženidbu sve dok ih ne ukliješte prepoznatljivi problemi.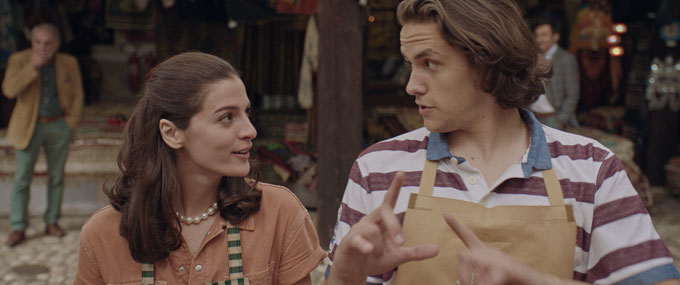 Lana (Helena Vuković) se želi okušati u Njemačkoj dok bi njezin dečko Orhan (Kerim Čutuna) radije ostao tu gdje je. Njegov otac Enis gleda kako proširiti posao, pa potpisuje s lihvarima, dok se Izo samo želi umiroviti. Onda u taj svijet upadne zagrebačka vlogerica koja igrom slučaja Izine 'ćevose' proglašava najboljima. Mic po mic to dovede to gradskog natjecanja među ćevos majstorima s Enisom i Izom kao glavnim konkurentima.
Ne smijem zaboraviti spomenuti da je Deset u pola jedan od prvih filmova koji ne bježi od korone. Inače mi ne smeta, čak i preferiram da se korona barem u filmovima ne pojavljuje kada je se ne možemo riješiti u stvarnosti. U ovom filmu, prisutnost korone riješena je uvjerljivo i to na tradicionalno balkanski način. U tome puno pomaže lik Gorana Navojca kao vlasnika lokalne kavane.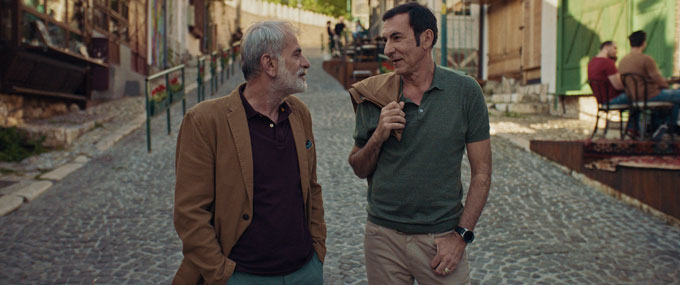 U filmu Deset u pola zbilja nema što nema. Imamo natjecanje, romansu, lihvare, vegetarijance, ratne profitere, pa čak i prisutnost nadnaravnog savjeta putem slike Izinog pretka koja se nakrivi kada se dogodi nešto što ne valja. Ono što sve ove nepovezane, natrpane i pomalo naivne elemente veže u tako dobar film su uvjerljivi i vrsno odglumljeni likovi. Em glavni, em sporedni.
Sve do posljednje rečenice, Deset u pola se ne trudi urlikati da je to dobar film. On zna da je vrhunski. Ali to neće zaustaviti mene. Ljudi! Deset u pola! Kakav dobar film!
OCJENA: