Sve u vezi filma Izgubljeni grad (The Lost City, 2022) miriše na lijenu holivudsku zlatnu koku. To je akcijska komedija o potrazi za… Pogodili ste – izgubljenim gradom i blagom koje je u njemu sakriveno. Uloge su dobili glumci čija bi prisutnost trebala u kino dovući sve (žene) između 25-e i 65-e. Zato se tu nalazi stara garda u obliku Sandre Bullock i Brada Pitta, a za mlađe su tu Channing Tatum i Daniel Radcliffe. Ono što je upitnije je činjenica da su redatelji filma dvojica braće kojima je ovo prvi veliki film, a scenarista ima čak četvero. Srećom u ovom filmu glume Bullockica, Pitt i Tatum.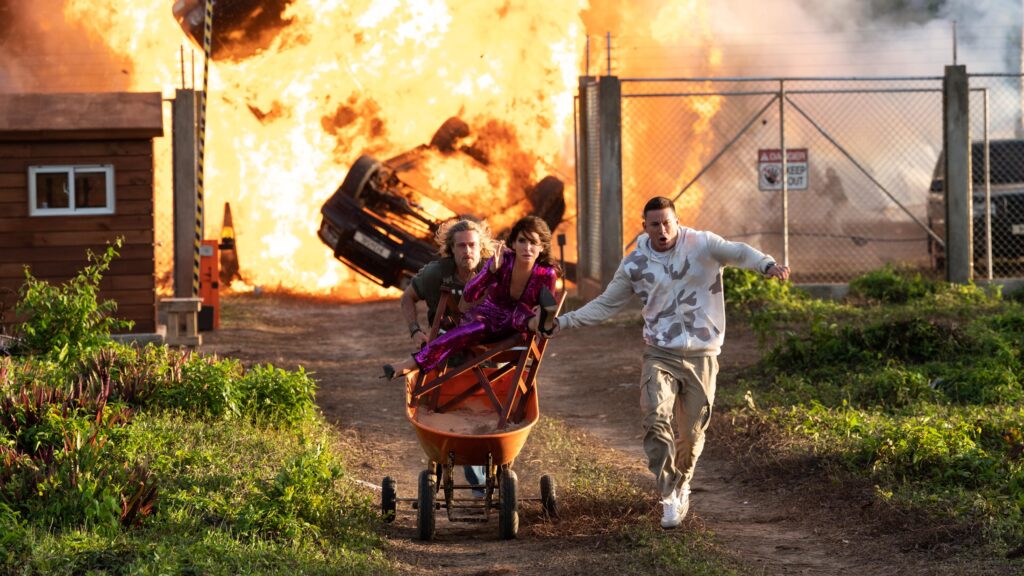 Izgubljeni grad priča jednako izazovna kao bojanje po brojevima. Spisateljica ljubića Loretta (Bullock) mora održati turneju svojeg posljednjeg romana, iako mrzi izlaziti iz kuće. Na turneji će ju prati model s njezinih naslovnica Alan (Tatum) koji je čini se slavniji od samih romana, a Loretta ga smatra jednako ili manje pametnim od lutke na napuhavanje. Ali kada ju otme multimilijarder i egomanijak Abigail (Radcliffe), Alan odluči zadiviti Lorettu tako da ju pronađe i spasi. Kako očito treba pomoć, angažira super-specijalca koji uz svoje vještine izgleda i kao Brad Pitt. A glumi ga… Brad Pitt.
Najpohvalnije kod filma Izgubljeni grad je što se nitko od glumaca ne drži preozbiljno. Bullockica je napravila cijelu karijeru na izvrsnom tajmingu za komediju, kao i ulogama uštogljenica koje se nauče opustiti. Tatum ono što ne može odglumiti nadoknadi šarmom, a Pittu nije teško odglumiti parodiju samog sebe. I to odlično radi.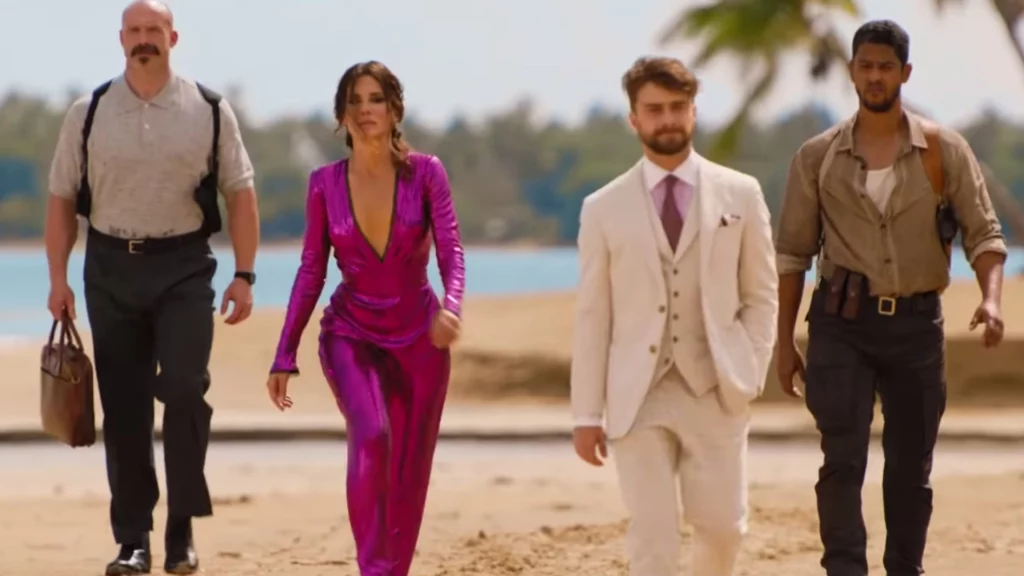 Jednom kada započnu gegovi oni ne prestaju. Bullock i Tatum svojom karizmom i međusobnom kemijom uspijevaju ovu suhoparnu ideju uzdići do punopravne komedije. Kada se čini da će jedan zaplet postati zamoran, on se brzo pretvara u nešto novo, tako da je film neprestano zabavan. Čak je i foršpan filma izrežiran tako da ostavlja dovoljno iznenađenja za sam film.
Ne znam koliko mi je Radcliffe uvjerljiv kao super-zlikovac, ali OK je kao zavidni multimilijarder. Također, film bi mogao biti i 20-ak minuta kraći, iako je jedina nepotrebna scena bila ona nakon odjavne špice.
Zaključak? Izgubljeni grad je film koji spaja zabavu, mitologiju i romansu i to bez da podcjenjuje gledatelja. Da se snimi nastavak, sigurno bih ga pogledala.
OCJENA: