Teško mi je reći je li film Ne gledaj gore (Don't look up, 2021) dugo iščekivan među ljubiteljima filma ili je samo riječ o Neflixovoj blagdanskoj pomami. Ipak su Leonardo Di Caprio i Meryl Streep solidna garancija. Publici kvalitete, a producentima dobiti. U filmu Ne gledaj gore pridružila su im se još i imena poput Jennifer Lawrence, Jonah Hilla, Cate Blanchett i Timothea Chalameta. Ukoliko su producenti željeli pokriti sve baze zanimanja za film, uspjeli su.
Znači li to da je Netflix snimio dosad neviđeni blockbuster? Na neki način. Ako rano osvijestite činjenicu da je redatelj ovog film Adam McKay – redatelj filma Oklada stoljeća (The Big Short, 2015) – bit će vam lakše prihvatiti izvedbu radnje. U filmu Ne gledaj gore, dvoje znanstvenika (Di Caprio i Lawrence) otkriju komet ubojicu koji je na putanji prema Zemlji. Svijet ima šest mjeseci da ga zaustavi.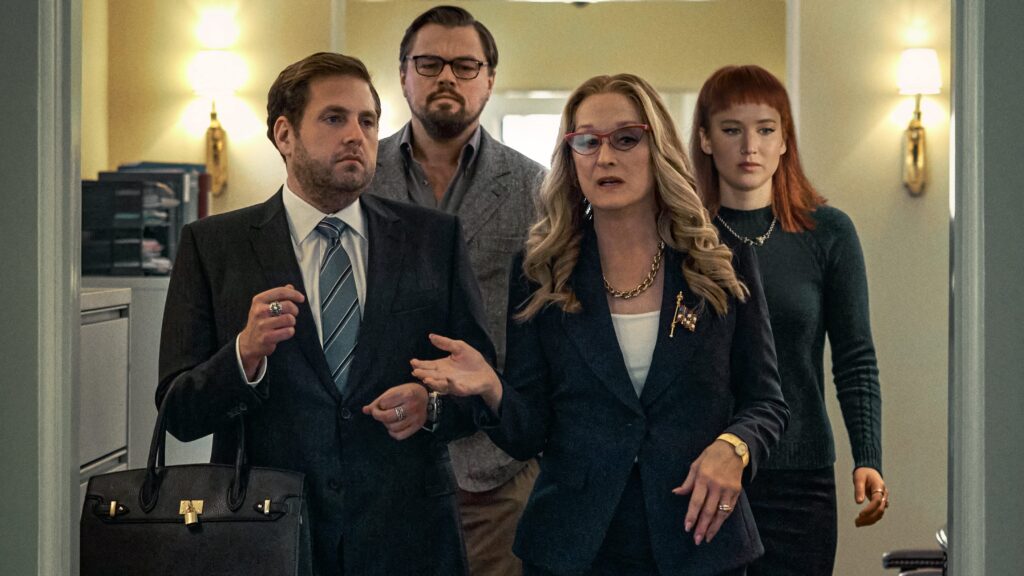 Nažalost, ohola predsjednica SAD-a, Meryl Streep ne želi ništa učiniti kako joj te katastrofalne vijesti ne bi odmogle pri izborima. Onda želi jer će joj uloga spasiteljice pomoći na izborima. Onda opet ne želi jer na kometu ima zlata i drugih ruda koje je bolje iskoristiti financijski nego spasiti sav živi svijet na planeti Zemlji.
Prvu polovicu filma provela sam pitajući se zašto su sve ove zvijezde pristale na ovako banalan film. To i mijenjajući sinkronizaciju na hrvatski pa natrag na engleski. Zbilja je sinkronzacija poseban oblik doživljaja. Ali negdje kad Meryl povede luđački slogan na svom predsjedničkom skupu, postane mi jasno.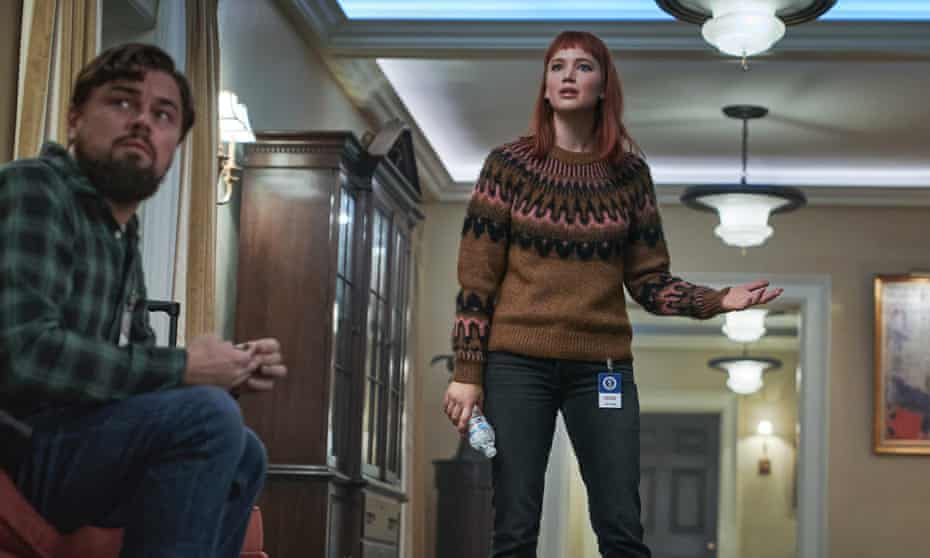 Ove zvijezde tu su da kroz komediju pokažu sebe onako kako se zamišljaju ili promoviraju. Tako Di Caprio pokušava spasiti planet, Streep se očito izruguje Trumpu, Hill je simpatični zgubidan, Lawrence je cool prostakuša. Daleko od toga da im gluma nije uvjerljiva. Samo, cijela priča je pomalo besmislena. Svijet dolazi kraju a mene niti je briga niti mi je smiješno.
Ako ste od kulta ličnosti, svidjet će vam se ova crnohumorna satira. Ipak je vrijeme blagdana. Možda je dovoljno samo vidjeti omiljene zvijezde kako se glupiraju. Ali ukoliko tražite neku utemeljenu priču, nećete naći mnogo.
OCJENA: