Najnoviji dugometražni uradak bosanskohercegovačkog redatelja Pjera Žalice Praznik rada (2022) intrigantno se odvija na istoimeni državni blagdan. Praznik rada, također poznat i kao Prvi maj bitan je dio kulturnog nasljeđa Balkana. Ipak je on datum tradicionalnog otvaranja sezone roštilja, a time i ponovnog ekipnog druženja nakon zimske hibernacije.
Tom se mišlju vodi i uvodna scena filma u kojoj četiri već duboko sredovječna druga sjede u natkrivenom dvorištu dugo u noć. Uz piće se prepiru oko izbora pravog mesa i začina za roštilj i nadglasanog pečenja janjca. Emir Hadžihafizbegović već tradicionalno prirodno plijeni gledateljevu pozornost svojom uvjerljivošću kao Žuna. On je nekadašnji vojni zapovjednik muškaraca okupljenih za stolom. Na odmet mu nije ni Boris Isaković kao Savo koji je samo zbog Praznika rada doputovao iz Kanade. Aleksandar Seksan kao Mujke i Admir Glamočak kao Numo u početku služe više kao komični dodatak priči. Ipak, kao u pravoj teatralnoj tradiciji, njihov smijeh kasnije se prelije u suze. Njihova mudrovanja o prvomajskom roštilju paralelno su isprekidana ženskim druženjem koje se odvija unutar četiri zida, a nastavlja se i telefonom čim jedna od njih sazna neke novosti na putu kući.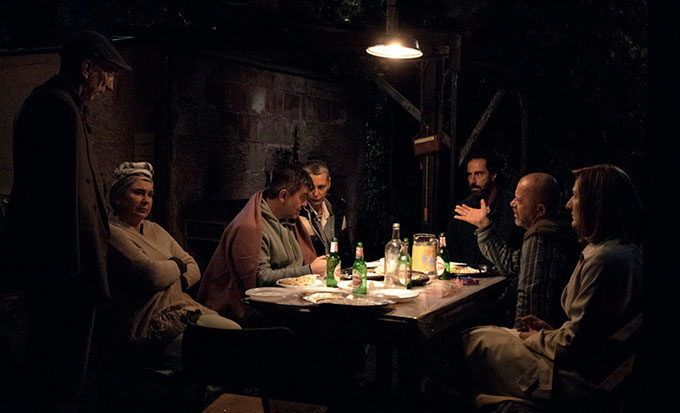 Žalica spretno vodi svoje mnoštvo pamtljivih i prepoznatljivih likova. Nijanse mjesta i temelji tradicija jasno su uočljivi i razumljivi i manje upućenom gledatelju. (Da, poput mene.) Pitka komika se lako stvara u brojnim scenama između muškaraca, žena, muškaraca i žena, policajaca i civila ili iseljenika i starosjedioca.
Zbog toga je šteta što na samom početku Žalica u priču uvodi zaplet u obliku uhićenja Arminovog oca za ratni zločin. Nakon te informacije Praznik rada postaje film potrage za istinom tj. dokazivanja nevinosti. A dobro znamo i već smo vidjeli kako takve priče završavaju (barem u filmovima) na našim područjima. Šteta je tog neuvjerljivog zapleta i pažnje koja mu se pridaje unutar priče. Jer je Žalica dokazao unutar samog filma da se povući temu rata može i uvjerljivo i osjećajno. Čak i da ju je on sposoban povući na taj način.
To je izričito uočljivo u verbalnom sukobu između Žune i Save koji si iz neke nebitne opaske počnu opako predbacivati svoja postupanja za vrijeme rata. Hadžihafizbegović ovdje ponovno svojom dostojanstvenom izvedbom svakoj riječi produbljuje i smisao i učinak. Nešto mirnije, bolnije je osvrt na rat izveden u nijemoj sceni između bračnog para kojima je u ratu ubijeno dijete. Također, nekako sablasno, ali nenametljivo djeluju izjave likova poput: Jesmo mi bili u istom ratu? ili Nema države za koju sam ja krvario.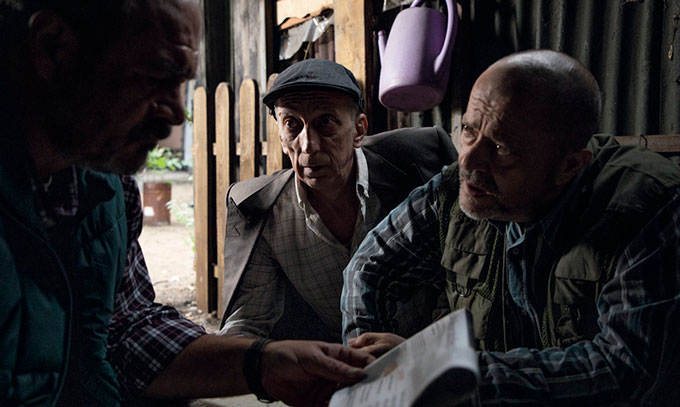 Vrijednost filma umanjuje kopanje dvorišta za puškom koja će dokazati krivnju ili nevinost Arminovog oca. Pogotovo jer se odvija pod vremenskim ograničenjem toga što Armin (Muhamed Hadžović) sljedećeg jutra 'mora' otputovati natrag za Njemačku. Iako je tek došao dan ranije nakon 10 godina izbivanja od kuće? A sada mu je i uhićen otac? Ne može se to lako prožvakati.
Da je Žalica imao više samopouzdanja i ostao vjeran raspoloženju i ritmu priče kojom je započeo film, mogao je uspješnije izreći sve ono što je pokušao reći ratnim zapletom. Njegovi likovi (njih 10 i bez optuženog ratnog zločinca i njegovog sina) dobili bi mjesta da dišu. Samim time bi poanta o ratu – koji nikako da se odmakne makar iz filmske svijesti naših krajeva – mogla biti dosljednije izrečena. Ovako Praznik rada nažalost ostaje još jedno šablonsko djelo s nekoliko naznaka posebnosti.
OCJENA: