Možda je najveći problem svake ekranizacije Tri mušketira ta da je njihova radnja u romanu iznimno detaljno elaborirana. Zato kada se na veliki ekran pokušaju prenijeti svi elementi priče, neki od likova ne mogu nego ostati samo stereotipi. Baš zbog toga oni se lakše prepoznaju i jednostavnije razumiju. U najnovijoj verziji Tri mušketira (Les trois mousquetaires: D'Artagnan, 2023) stereotipizacija likova je posebna šteta. Zvučna glumačka ekipa i u takve likove unosi dovoljno života da oni ostanu intrigantni, ali to samo znači da gledatelj žali što više vremena ne može provesti sa svakim od njih.
Pogotovo se ovo odnosi na kraljicu Anu koju utjelovljuje Vicky Krieps. Njezina Ana je mnogo odanija kruni od njezinih prijašnjih inačica i u rukama Kripes Ana pokazuje odgovornost i ponos prema svom položaju. Da, ona je još uvijek zaljubljena u vojvodu od Buckinghama, ali ne i pod svaku cijenu. Slično je i s drugim – inače potpuno karikiranim ženskim likom kraljičine dame Constance. Lyna Khoudri za obično praznoglavu Constance samo pogledom i blagim osmjehom izaziva znatiželju.
U želji da oplemeni i opravda dogodovštine mušketira, redatelj Martin Bourboulon uvodi akcijsko kadriranje i zatamnjenu estetiku. Ali mudro bira i vrhunski kalibar glumaca koji znaju prenijeti ozbiljnost bez patetike. U tome se iskazuju gotovo svi – od Krieps i Khoudri preko Durisa, Cassela i Garrela. Eva Green kao Milady i Eric Ruf kao Richelieu gotovo uopće ne dolaze do izražaja, ali taj će dio vjerojatno biti ispravljen u najavljenom nastavku Tri mušketira: Milady.
U ulogama mušketira nalazimo Vincenta Cassela, Romana Durisa i meni manje poznatog Pija Marmaïja. Oni vješto koriste svoj šarm, ali nemaju dovoljno prostora da potpuno oforme svoje likove. Najbolje to za rukom ide Garrelu jer za razliku od inače kartonskog kralja zrači ozbiljnošću i opasnošću. Opet, to ne znači da Luja XIII. ne nakiti i dovoljnim slojem vladarske samodopadnosti i ekscentričnosti.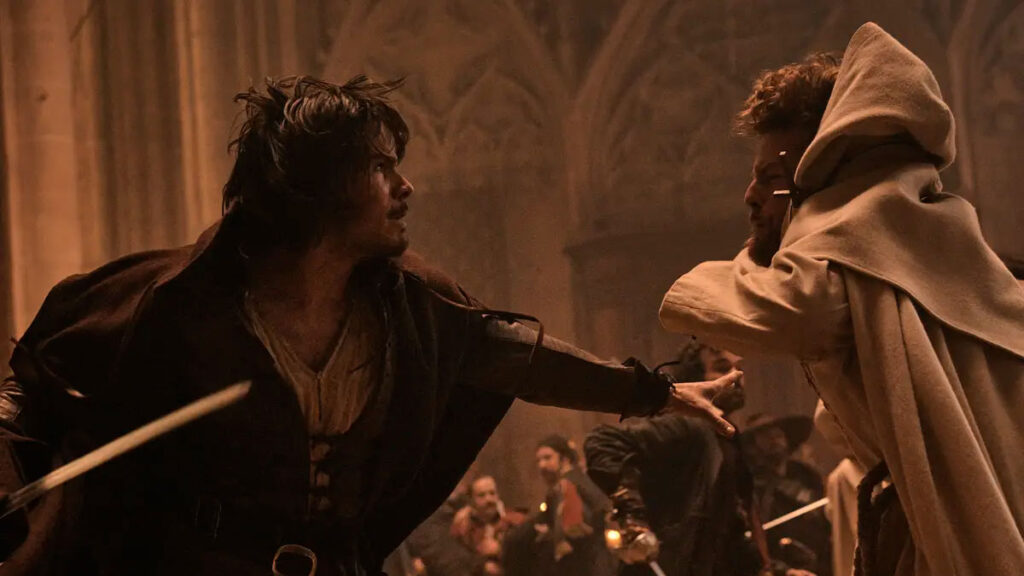 Francois Civil kao mladi Gaskonjac D'Artagnan pak daje naslutiti skromnost svog glumačkog iskustva i nedostaje mu Yorkov obarajući djetinjasti šarm. Baš kao i film, i sam lik D'Artagnana pokušava biti nešto mračniji od dosadašnjih verzija. A to je i najveći nedostatak ovog filma. Jer Degasova priča o mušketirima je sapuničasta. Pokušati unijeti ozbiljnost u dramatične, plemićke zavrzlame još nije urodilo plodom.
One stavke u scenariju koje ne mogu izglancati ni izvrsni glumci ostaju točke koje najviše smetaju. Novoubačeni zaplet u kojem se Athos budi pored ubijene žene i bude optužen za njezino umorstvo već je toliko puta upotrebljen da ga je naporno ponovno gledati, a kamo li prihvatiti. Pogotovo kada se onda njegovi kompanjoni pretvore u CSI: Mušketiri i nakon obdukcije tijela prekopavaju šumu u potrazi za nepobitnim dokazom Athosove nevinosti. Jednako je nepotreban i mig političkoj korektnosti koji od Porthosa pravi omniseksualca.
Zapravo je najveći grijeh ekranizacije Mušketira napraviti pretjerano ozbiljan film. Priča o mušketirima oživljava u svojim komičnim elementima koji se događaju komedije radi. To najbolje dočarava početna zavrzlama u kojoj D'Artagnan dogovara tri dvoboja za redom na svoje prvo jutro u Parizu. Izvedba ove scene pravi je užitak. Ostavlja dojam da bi samo ponovno izvođenje ove scene poput glumačke vježbe bilo zanimljivo kojih sat vremena.
Samo malo dodatnog povjerenja u dostatnog originalnog materijala dopustilo bi filmu da prodiše. U Bourboulonovim rukama događa se nesrazmjer između želje da ostvari uvjerljiv film ili da se potpuno prepusti mušketirskoj šašavosti. Zbog toga je na momente neimpresivan. A to se ne bi smjelo dogoditi jednom filmu o četiri legende.
OCJENA: