Bolno je u naslov staviti vrijeme trajanja serije Dobre djevojke (Good Girls, 2018-2021). Žao mi je što je serija 'završena' iako su ju često pratile nelogičnosti i preforsirani zapleti. Istovremeno, premisa i popratne ideje su mi briljantne! Tri kućanice u financijskim problemima opljačkaju dućan, ali čim se povesele da su uspjele, shvaćaju da je dio novca pripadao i narkobosu. Rječju – uzbudljivo!
U rubrici Tri na jedan nabrojat ću tri loše i jednu dobru stranu serije Dobre djevojke. Još uvijek ju svesrdno preporučam, ali da je savršena – nažalost nije.
Tekst koji slijedi može sadržavati pojedinosti o radnji ili o završetku ove serije.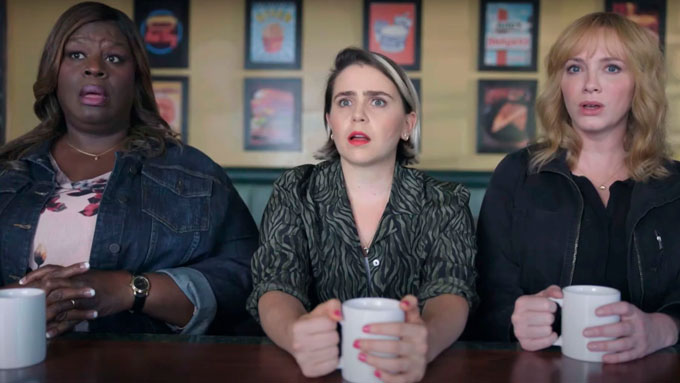 LOŠE STRANE:
1. Nema časti među lopovima
U prvoj sezoni Dobrih djevojaka, Beth (Christina Hendricks), Annie (Mae Whitman) i Ruby (Retta) izbjegnu dugu ruku zakona što se tiče pljačke dućana. Ali kada dug moraju vratiti narkobosu Riu (Manny Montana), pojavi se i agent FBI-a koji ih želi iskoristiti kako bi ga zatvorio. Iz dućana vreba zlokobni Boomer, a kasnije ih ucjenjuje i mama Mary Pat. Naravno, da među lopovima nema časti, ali u novim sezonama je toliko likova koji žele uhvatiti naš trio da se zbilja više ne zna tko pije, a tko plaća.
2. Prokockane prilike
Prokockane prilike zapravo su nastavak prve stavke. Da se ijedna prijetnja djevojkama zadrži duže od trajanje jedne epizode, dojam o seriji brzo bi se popravio. Scenaristi kao da su nas htjeli zasipati svojim idejama kako niti jednu ne bi morali temeljito razviti. Fanfiction svijet prepun je briljantnih izvedbi opasnih zapleta iz pera obožavatelja. Ako su amateri u stanju napisati kvalitetnu priču iz ovog materijala, zašto to nisu profesionalni scenatisti? Ovako, kada prijetnja dolazi od nekog iritantnog lika samo se nadate da će brzo nestati. U svakom slučaju, skoro nikad se ne bojite se za cure i njihovu sudbinu. A to je bit svega, zar ne?
3. Brio
Tj. Beth i Rio. Najprokockanija od svih prilika. Navodno je glavna scenaristica Jenna Bans izjavila kako je u novoj sezoni serije Dobre djevojke htjela pokazati bezizlaznost iz kriminala i dati priči na realnosti. Lijepo. Čestitam. Ali ako je mislila da mi Dobre djevojke gledamo zbog realizma, netko se gadno preračunao.
Zašto bi itko ikada (ZAŠTO?) doveo seksipilnog kriminalca i mamu koja želi više od svog života u kontakt i onda četiri sezone niti u jednom trenutku niti jednom scenom ne bi razvio njihov odnos? Zaaaaštooo?
Beth i Rio su Scarlett O'Hara i Rhett Butler televizije. Mogli su postati Bonnie i Clyde TV drame. A scenaristi su odlučili da će Rio u svakoj sceni Beth reći da je beskorisna, a ona će njega uvijek htjeti prevariti, a nekad će se i malo drpati. Bez veze! I gore. Jako jako razočaravajuće!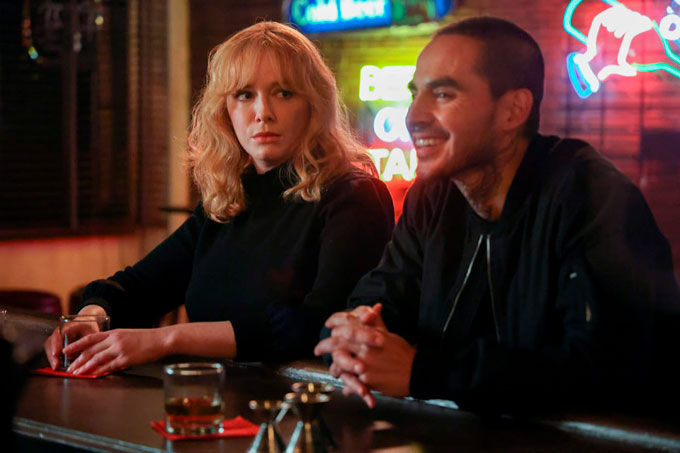 DOBRA STRANA
1. Odlična premisa
Za one koji zabavni program ne doživljavaju tako osobno i prijelomno kao ja sigurno će uživati u uzbudljivoj premisi serije Dobre djevojke. Pa to su tri mame koje se ponadaju da će im jedna pljačka preokrenuti živote na bolje. Ali čim se počne činiti da je tako, iskrsne jedan problem. Pa drugi. Pa treći. A Beth, Annie i Ruby se na sarkastično-humorističan način pokušavaju izvući iz sve zapetljanijih situacija. Za opuštanje nema boljeg!
OCJENA: