Uvodne scene filma Jako mi je stalo (I Care a Lot) iscrtavaju brutalan svijet krađe i iskorištavanja stripovskim stilom. Nasmiješene medicinske sestre štićenicima doma za starije serviraju tablete kao da su osvojili na lutriji, oni nafiksani sjede i bolje u prazno, a posjetitelja koji želi ući u dom da vidi majku zaustavlja živi zid zaštitara. Na sudu upoznajemo Marlu koja je razlog zašto sin ne može posjetiti majku. Marla je sudski postavljena skrbnica onima koji više ne mogu brinuti o sebi, a svu njihovu imovinu rasprodaje samo zato da bi im – kako tvrdi – osigurala najbolju skrb.
Naravno, mi od početka znamo da to nije tako. Marla nam preko uvodnih scena šapće kako dobri ljudi ne postoje. Za Marlu postoje samo lavovi ili janjad. Ona za sebe želi osigurati luksuzan život iskorištavajući nemoćne kao samoproglašena lavica.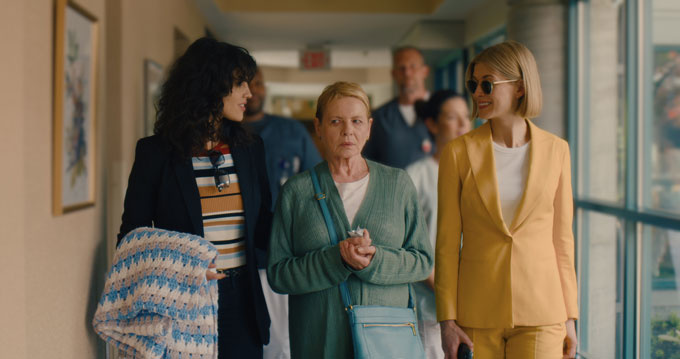 Wow, pomislila sam – ovo će biti verzija Vuka s Wall Streeta (Wolf of Wall Street, 2013) u kojoj će Leonardovo mjesto preuzeti Rosamund Pike u ulozi zabavne, a beskrupulozne Marle. Kada se kao antagonist pojavio i Peter Dinklage očekivala sam pogledati spoj Vuka s Wall Streeta i Kriminalaca na godišnjem (In Bruges, 2008) i tome sam se jako veselila.
Marla vodi dobro uhodanu mrežu kojom putem liječnika pikira starije osobe. Oduzima im slobodu pod krinkom skrbi, stavlja ih u dom za starije u kojem posjeti niti kakav drugi kontakt s obitelji nisu dopušteni, a pristrani sudac ozakonjuje svaki zahtjev dok spremno ispija Marline laži.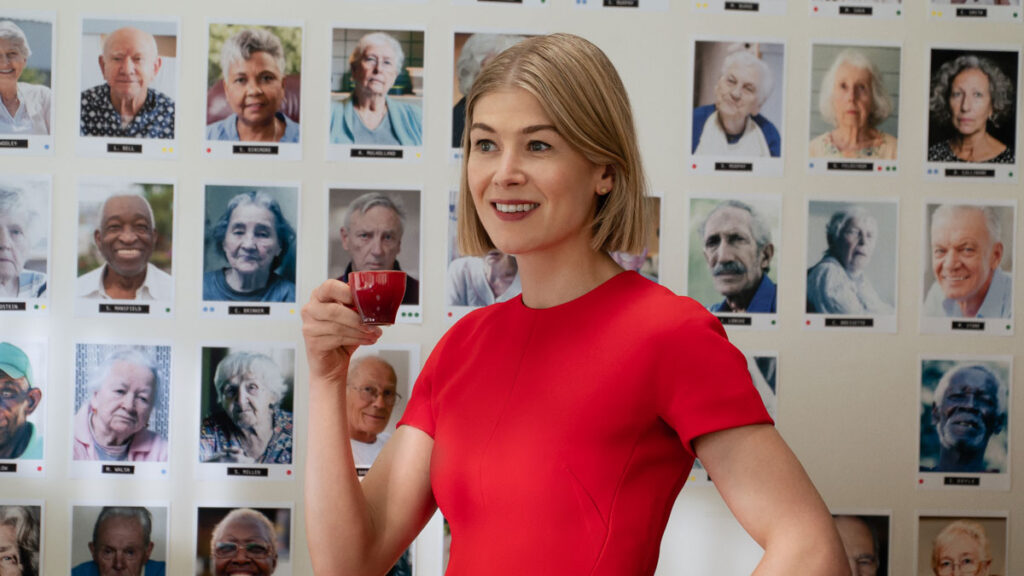 Kada joj suradnica servira 'laku metu' Marla put do staričinog bogatstva krči bez mnogo muke. Ali tako se samo čini. Ova starica nije tako nemoćna kako su pretpostavljali, a pogotovo nije bez veza i rodbine. Marlina 'laka meta' postaje opasan nišan, a Marla se svojom pohlepom i tvrdoglavoću zakopava sve dublje.
Nažalost, iako tema i ideja obećavaju Jako mi je stalo je film koji nije siguran što sam od sebe želi. Ako želi li biti kritika društva, sadrži previše parodije. Ako želi biti triler, onda ulozi za koje se igra nisu dovoljno zastrašujući. Ako želi biti parodija, nije dovoljno zabavan. A ako želi biti Vuk sa Wall Streeta, protagonistica nije dovoljno simpatična.
Marla je lijepa, nekonvencionalna i seksi, ali osim toga je samo isprazna lovatorica. Ona riskira svoj život u sukobu s mafijaškim šefom, zašto? Za 10 milijuna dolara? Mnogo novaca za gledaoce, ali ne i unutar svijeta u kojem je predstavljena Marla.
Scenarist i redatelj J Blakeson to kao i mnoga druga pitanja ostavlja nerješenima, likove i zaplete kao da uvodi radi momentalnog šoka, a kasnije ih zaboravlja. Uvodi lik šefa mafijaške organizacije kojeg gotovo uopće ne percipiramo kao prijetnju.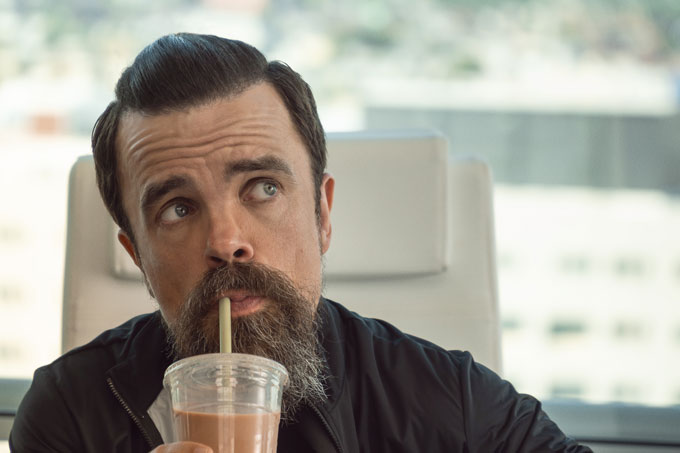 Ipak, njegova najveća greška je ona početnička. Marla je odkad je upoznajemo groteskni spoj očaravajućeg osmijeha i čađave osobnosti. Ali s njom se ne da poistovjetiti i još gore – za nju se ne da navijati. Ako protagonistica završi u jezeru u automobilu, gledaoc ne bi trebao željeti da se utopi.
Nije stvar u tome da je Marla bezobrazno demonski lik. Pa neki od najpoznatijih filmova za protagonista imaju anti-junake inače Kum, Taksist, Paklena naranča ili Lice s ožiljkom ne bi uživali kultni status filmova koje se uvijek može ponovno pogledati. Problem je što nam priča ne daje niti jedan razlog da želimo da Marla uspije, a onda u zadnjoj minuti servira neku vrstu kozmičke pravde.
Vizulani stil filma Jako mi je stalo asocira me na američki dućan s bombonima, a priča na Slatku tajnu jer započinje slatko i zabavno, ali kad se dođe do srži od cijele priče ostaje pekmez koji tu uopće ne pripada.
OCJENA: