Ne brini, draga (Don't Worry Darling, 2022) redateljice Olivije Wilde istaknuo se kao najdraža vreća za udaranje na ovogodišnjem Filmskom festivalu u Veneciji i kao najlakša meta filmskih kritičara. Ja sam bila te sreće da sam ga pogledala na vrhuncu tračerskog vihora, ali i te nesreće da ga nisam mogla pogledati do kraja. Zato sam detaljno čitala svaku kritiku koju sam našla kako bih otkrila što se dogodi u zadnjih 30 minuta filma. Zanimalo me da bih znala oformiti mišljenje, ali ne dovoljno da bih ponovno pogledala prvih sat vremena filma. A i to dovoljno govori o početnom dojmu.



Film Ne brini, draga smješten je u idilično iako pomalo pusto mjesto imena Victory u vrijeme kada žene brinu o kući, a muškarci o financijama koje donose kući. U središtu priče nalazi se par kakav bismo trebali poželjeti biti. Ako je ideal da žena s očajničkim žarom usisava kuću i sprema odrezak i jedva dočeka da joj se muž vrati s posla, dok muškarci osim svog posla i promaknuća nemaju drugih crta osobnosti ni želja.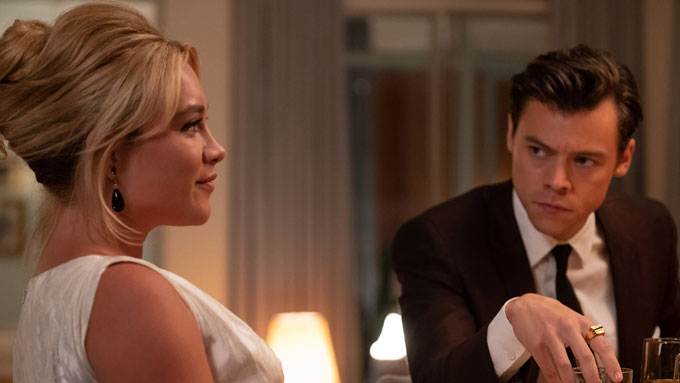 Victory Village je priobalni grad bez mora. Pustinja bez kasina. U slijepoj ulici, identične kućice nanizane su u polukrug, a pastelni automobili u koreografiji izlaze iz prilaza kada je vrijeme za posao. U tom 'idiličnom' svijetu, Florence Pugh je Alice (ne slučajno kao ona u zemlji čudesa), a njezin muž je Jack (Harry Styles). Oni se dobro slažu, odlično zabavljaju i neutažno žele.
Sve dobro funkcionira dok Alice ne istupi iz vrste. Nekoliko nedosljednosti u mjestu Victory počne se slagati u zabrinjavajuću sliku. Zašto se jedna od žena u ovom bajkovitom mjestu pokušala ubiti? Zašto svi parovi imaju istu priču o tome kako su se upoznali? Zašto njihov karizmatični vođa Frank (Chris Pine) ima tako ohol osmijeh?



Alice odluči saznati za vrijeme zajedničke večere. I to je trenutak kada Wilde ima priliku od Ne brini, draga napraviti izvrstan film. Alice je svjesna da Frank taji nešto zlokobno. Za razliku od mnogih drugih filmova, ona ne sjeda za stol ponizno dok atmosfera postaje sve tjeskobnija. Alice izuva svoje salonke i prkosno sjeda na čelo stola. Dragi Frank, zabrini se. Nažalost ni Wilde ni scenaristica Katie Silberman ne iskorištavaju trenutak. Umjesto da sukob između Franka i Alice eskalira u završni obračun, on njoj par puta odbrusi i to je to. Alice ispada bezobrazna i blesava, a Frank odlazi bez posljedica. Možda je takav rasplet realan, ali u svrhu priče nije nimalo zadovoljavajuć.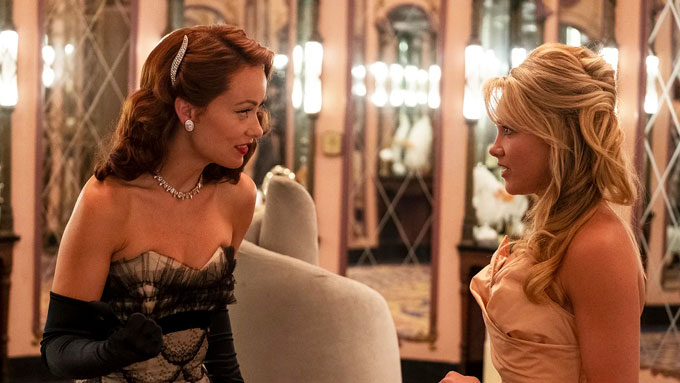 Olivia Wilde se trudi film pečatirati prepoznatljivim stilom. Često snima iz ptičje perspektive kako bi pojačala dojam i uvodi začudne simbole plesačica i Rorschachovih mrlja. Nažalost priča koju priča je već više puta viđena, a zaključak koji donosi nedovoljno je poentiran. Wilde-in naum bio je snimiti feministički film. Zbog toga je možda mušku priču svela na minimum. Ali time je ostavila mjesta da film ispadne površan.



Wilde je tijekom medijske oluje više puta naglasila da se film Ne brini, draga napada iz mizoginije, a ne kritičkih razloga. Predbacivalo joj se što je sebe je stavila u jednu od najdojmljivijih uloga, tijekom snimanja se spetljala s 10 godina mlađim kolegom i navodno se zakačila s glavnom glumicom. Ništa što se nije dogodilo nekom muškom redatelju, ako ne i više njih. Ali da je dvaput razmislila znala bi da za žene vrijede drugačija pravila. A možda bi i film onda bilo malo bolji.
OCJENA: