Žena kralj (The Woman King, 2022) u kina nadobudno dolazi bok uz bok još jednom Marvelovom ispljuvku – pardon, nastavku – Crna pantera: Wakanda zauvijek (Black Panther: Wakanda forever, 2022). Ovo je već drugi film ove godine koji je temom teško razlikovati od Marvelovog parnjaka koji izlazi otprilike u isto vrijeme. Početkom godine to se dogodilo s filmom Sve u isto vrijeme (Everything Everywhere All at Once, 2022) i Marvelovim Doktor Strange u multiverzumu ludila (Doctor Strange in the Multiverse of Madness, 2022). Nameće se pitanje tko oko koga organizira premijere – nezavisni filmovi oko Marvela ili Marvel oko njih. Za prve se to čini kao preveliki rizik, a za druge – nepotreban. U svakom slučaju, slučajnost je sumnjiva.



Baš kao i što je bio slučaj s filmom Sve u isto vrijeme, i Žena kralj dobila je bolje kritike od svojeg parnjaka. Marvel pobjeđuje količinom, ali čini se da originalna ideja ipak ima svoju težinu. Nažalost, Žena kralj ne opravdava uvijek manevarski prostor koji joj je dopušten. Štoviše, čini grešku koja me ljuti više od bilo čega kada se radi o filmu – ne ispunjava svoj potencijal. Još gore, izigrava ga i potraćuje.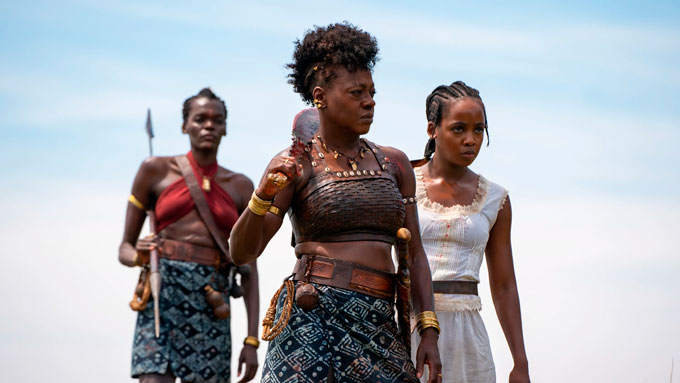 Žena kralj započinje baš kao što jedan ep i treba početi – kratkim tekstom o vremenu u kojemu se priča odvija. Ovakav tekst lako asocira na svemirske epove poput Ratova zvijezda ili u manjoj mjeri povijesne poput Gladijatora. Redateljica Gina Prince-Bythewood nas prikladno priprema na ugođaj i atmosferu filma. Razvoj priče kao i način prikaza dokaz su da je redateljica svjesna tradicije u kojoj film snima i nema namjeru izlaziti iz okvira fikcionalno-povijesnog epa. Slažem se s takvom odlukom. Film Žena kralj je aspirativan blockbuster koji prvi puta u tolikoj mjeri u glavne uloge stavlja crne žene. Zbog te 'začudnosti' tradicionalni način pripovijedanja priče dopušta nam da se bolje fokusiramo na ono što nam je novo: ratnice kraljevstva Dahomey.



Dahomey je kraljevstvo na prekretnici. Izvana ih napadaju susjedna plamena, a iznutra njihov kralj ima prosvjetiteljske ideje. Kako su im stalni ratovi, ali i prodaja vlastitih ljudi kolonizatorima smanjili broj muškaraca u selu, kraljevstvo Dahomey oformilo je žensku vojsku. One su izolirane od ostatka svog naroda koji ih ne smije ni pogledati kada prolaze. A ne smiju se ni vjenčati niti imati djecu. Čini se prilično nepravedno. Kada izvojevaju pobjedu, ne mogu uživati u obožavanju naroda, a u privatnom životu moraju odbaciti tjelesne strasti. Vrlo tradicionalna, čak i nazadna interpretacija. Ovakav odabir vjerojatno se može obraniti činjenicom da je pleme ratnica u povijesti Benina zaista postojalo, ali još jedan iskorak u idealiziranu fikciju ženske neovisnosti ne bi škodio.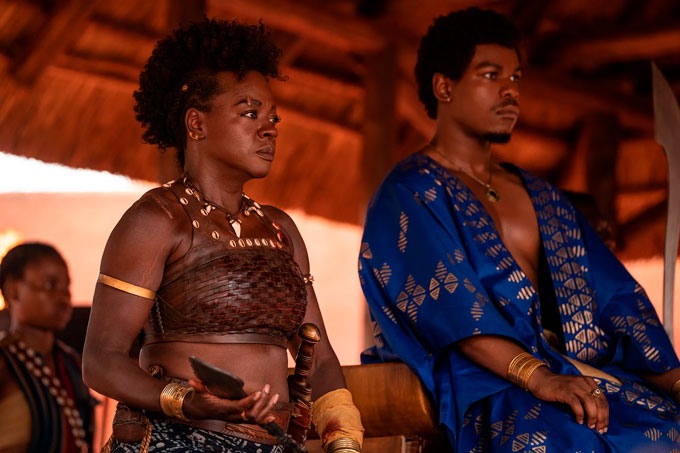 Ono što škodi filmu je simplificirana priča i oslanjanje na motive preuzete ravno iz popodnevne telenovele. Žena kralj prati djevojčicu Nawi (Thuso Mbedu) koja odbija ugovoreni brak. Zbog toga ju otac odvodi kralju kao poklon. U palači mora proći obuku i na tom putu nas upoznaje s ratnicama koje zovu Agojie. Predvodnica ratnica kraljevstva Dahomey je Nanisca (Viola Davis) koja sprema osobnu osvetu glavnom ratniku nadmoćnog kraljevstva Oyo. Ona je u mladosti bila ratna zarobljenica njegovog plemena gdje su ju mučili i silovali. Do kraja filma saznajemo da je svojevoljna i buntovna Nawi zapravo njezina kći – plod tog silovanja. Saznajemo i da je jedan od trgovaca robljem napola Dahomejac koji se odluči zauzeti za prava svog naroda. Saznajemo i da kralj ne želi više prodavati svoje sunarodnjake. Radije će prema Naniscinom savjetu proizvoditi palmino ulje. Zbilja?



Sve ove zavrzlame same po sebi nisu toliko grozne, ali su u sklopu priče nezaslužene. Iako pratimo Nawi na putu da postane ratnica, filmu nedostaje ona klasična montaža vježbanja od nezgrapnosti do savršenstva. Na početku filma Nawi se ruga što je jedno od oružja ratnica obično uže. Ali u filmu nikada ne vidimo da se užem ipak naučila služiti ili da joj je u jednom trenutku preostalo kao posljednji spas. Za Naniscu znamo da ima povjerenje kralja, ali u filmu nemamo zajedničku scenu iz koje bismo njihovo prijateljstvo ili uzajamno poštovanje mogli iščitati. Film prečesto zahtjeva da mu vjerujemo na riječ umjesto da nam prenese osjećaj koji će nas dovesti do željenog zaključka.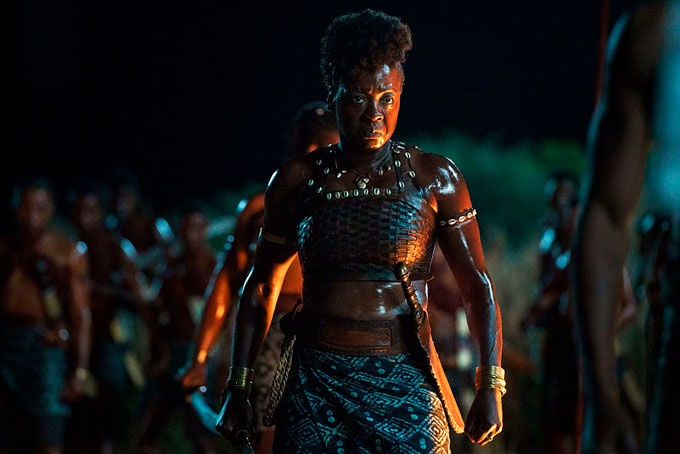 Ljuti me to jer Žena kralj ima mnogo stvari koje joj idu u korist. Glumice su šarmantne i zabavne. Zanimljivo je pratiti njihovu priču i međuljudske odnose. Njihove odore su lijepe i krajolik je divan. Jedna od najdražih stvari su mi vratolomije. Za razliku od danas uobičajenih akrobacija koje nemaju veze s gravitacijom, u Ženi kralj ratnice se bore impresivno, ali prilično uvjerljivo. I kemija među glumicama je opipljiva. Užitak je boraviti u svijetu Žene kralj. Šteta što se previše posegnulo za stereotipnim interpretacijama ženskih likova poput onih iz tradicionalnih akcijskih filmova. Cijela bit je da su u njima žene sporedni, plošno opisani likovi. Nelogično je i uvredljivo da, kada se napokon dobije prilika da se žene razradi u glavnim ulogama, se poseže za takvim odavno izlizanim klišejima.
OCJENA: