Da nismo samo nekoliko sati ranije imali raspravu (i to kvalitetnu raspravu kojoj je prisustvovao i sam redatelj) o stanju i potencijalu hrvatskog filma, otpisala bih Nosila je rubac črleni (2022) kao samo još jedan nesmotren rezultat birokratizirane hrvatske kinematografije. Ovako, znajući da su i redatelji i glumci svjesni tipičnih zamki u koje hrvatski film upada, mogu samo zaključiti da u njih upadaju namjerno.
Prema scenariju filma Nosila je rubac črleni nastao je i scenarističin roman prvijenac Svojevrsna, a ako je Antolić htjela pobrojati sve viceve koje je ikad čula o Zagorcima onda svoj pothvat može smatrati uspješnim. Ančica je trudna sa seoskim svećenikom, pa se udaje za seosku ludu kako joj dijete ne bi bilo "fačuk". Kuma Anka prasicu Bebu vodi kod lokalnog rasplodnika koji "štepa kak veliki". Samo što počinje Domovinski rat, a prasac koji je kupljen u Srbiji sada je veliki problem. Osim toga, postoji animozitet između dva sela, mladi idu u vojsku, muški vole piti, a kumice tračati. Nažalost, od bezbroj stereotipa o Zagorcima koje Antolić nudi, niti jedan nije razrađen, a kamo li kritički interpretiran.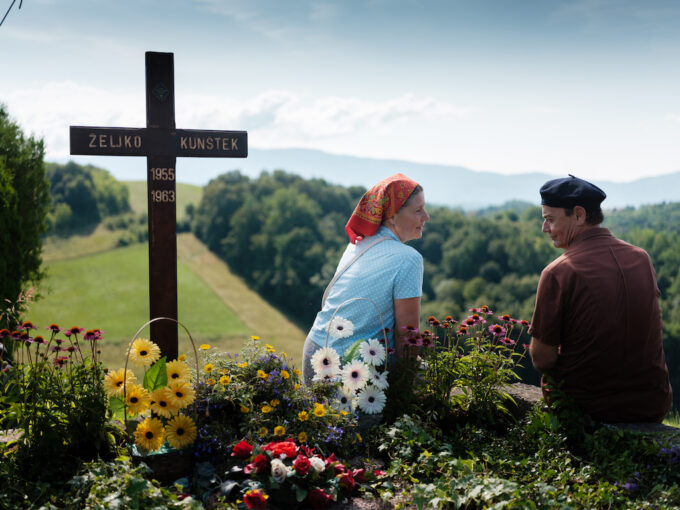 Štoviše, i sam kumulativni zaplet u kojem pokvarena hauba dovodi do velike svađe između Ančice i kume Anke isforsiran je i neutemeljen. Kumi Anki predbacuju se karakteristike koje niti jednom nije pokazala u filmu samo da bi joj u crkvi oživljeni kip djevice Marije naredio da se pomiri s Ančicom. Nakon naratora Isusa Krista i brbljave prasice Bebe, je li zbilja bilo potrebno uvoditi još jedan deus ex machina? (Da ne bude zabune, ne – nije.)
Jedan redatelj koji javno kritizira što mu se film prikazuje u kasnom terminu na zatvaranju festivala te publiku sa dozom prijezira tjera u kino na svoj film trebao je možda s više inteligencije ili barem ljubavi pristupiti priči koju želi pozicionirati izvan uobičajenih okvira hrvatskog filma. Umjesto toga, Dukić otvara mnoštvo tema koje očito smatra dostatno zabavnima samo njihovim navođenjem. Je li istina da Zagorci vole piti i pričati proste viceve? Jest. Je li Tito iz istog kraja kao i Tuđman? Jest. Da li se svinje pare zbog kolinja? Da. A njegov stav ili stav filma prema tim činjenicama? U najmanju ruku nepostojeći.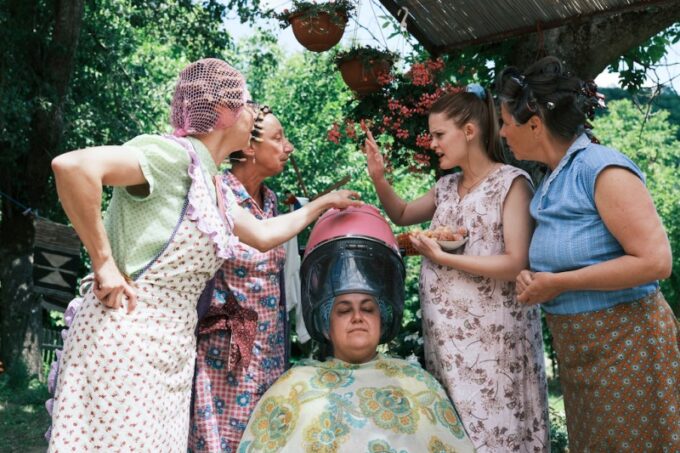 Ono što je bolno prisutno je samodopadnost i posprdnost kojim se redatelj odnosi prema svojim likovima kao i Zagorju. Možda mu zbog toga ne smeta što priča drži vodu koliko i pohabano cjedilo, što su mu glumci drveniji od Isusovih kipića, a fore kao pokupljene od vječnih studenata iz Kluba studenata Filozofskog fakulteta.
Doduše, moram biti iskrena. Dok sam ja u svoju bilježnicu za recenzije ljutito pisala "zašto" i "???" publika se tu i tamo nasmijala, a kasnije su i komentirali da im je film bio dobar. To me posebno pogodilo jer ukazuje na kompleksniji problem. Ukoliko želimo razvijati kvalitetnu i zavidnu filmsku industriju na to moramo naučiti i publiku. Ali sistem, čini se, funkcionira. Pa koja budala bi ga onda išla mijenjati?
OCJENA: