Novinarke Jodi kantor i Megan Twohey svoja iskustva sakupljanja svjedočanstava i dokaza protiv dugogodišnjeg holivudskog zlostavljača Harveya Weinsteina objavile su 2019. u knjizi She Said. Za svoj istraživački rad osvojile su nagradu Pulitzer koju su podijelile s Ronanom Farrowom za rad na istoj priči, makar su one objavljene u različitim publikacijama. Bilo je samo pitanje vremena kada će se njihova priča ekranizirati u novinarski klasik poput filma Svi predsjednikovi ljudi (All the President's Men, 1976) ili Spotlight (2015) ovog desetljeća. To gorko-slatko iskustvo imali smo priliku doživjeti ove jeseni i u hrvatskim kinima u filmu Ona je rekla (She Said, 2022).




Carey Mulligan i Zoe Kazan zaigrale su novinarke Twohey i Kantor. Nažalost, umjesto da postanu ženske inačice Redforda i Hoffmana u klasiku Svi predsjednikovi ljudi, ostale su samo kartonske šablone. Umjesto karakterizacije one su u privatnim sferama gotovo isključivo prikazivane kao (buduće) majke kćeri zbog kojih žele poboljšati svijet. A bolje nisu prošle ni svjedokinje koje su gotovo uvijek bile okružene svojom djecom i to mahom kćerima. A bolje nisu prošle ni njihovi izvori. Kao da je film Ona je rekla neprestano pokušavao naglasiti da ove žene to ne rade iz osobne osvete, već kako bi svojim kćerima osigurale bolju budućnost. Twoheyina postporođajna depresija također se dovodi u vezu s tmurnim svijetom koji očekuje njezinu kći. Ako ga ona ne promijeni, naravno.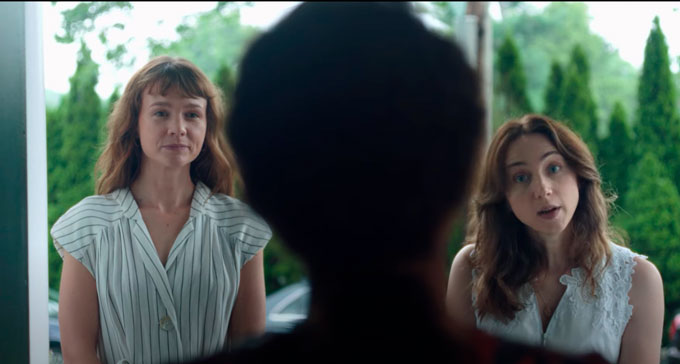 Sam film je bliska prepiska svjedočenja previše žena koje je Weinstein maltretirao zahvaljujući svom utjecaju. Ali umjesto da od svojih likova napravi heroine, Ona je rekla od svjedokinja stvara dosadne plačljivice. Ne razmatra se pitanje zašto netko toliko dugo ostaje u takvoj situaciji, pa nas se navodi na zaključak da su ove žene od toga ipak imale koristi. Ipak govorimo o dobitnicama Oskara, pripadnicama holivudske kreme i asistenticama na lukrativnim poslovima. U tome je onda toliko osporavani film One su bombe (Bombshell, 2019) daleko bolje opisao hermetičnost poslovnih krugova u kojima novinarke pokušavaju ostvariti poslovni uspjeh i manipulativnim prijetnjama s kojima se susreću.
Ona je rekla podrugljiv je dodatak 'ženskom filmskom štivu'. Da je barem i propagandni film koji zauzima neki čvrsti feministički stav. Svaka scena je dokaz da mu nije stalo do istraživanja svojih likova i njihove ljudskosti. Umjesto toga, bitno je ispuniti kućice. Ženski likovi – prisutni. Priča o zlostavljanju – prisutna. Ulovljen negativac – prisutan. Reformirano društvo – prisutno. A veza sa stvarnošću? Pih. Pa to je samo igrani film. Plačipi*de ni ne zaslužuju više. Barem ne ako se pita ovaj film.
OCJENA: