Novi Netflixov dokumentarac Varalica s Tindera (The Tinder Swindler, 2021) vjerojatno me privukao jer se radi o društvenim mrežama, a prijašnji Netflixov dokumentarac Društvena dilema (The Social Dilemma, 2020) mi je bio OK. Taman za usputno gledanje dok spremam.
Priča Varalice s Tindera užasno me podsjećala na priču o festivalu Fyre koji je baš kao i glavni prevarant Simon konstrukt društvenih mreža iza kojeg, nakon što se digne zavjesa, nema ništa. Zapravo još gore od ništa, kad se zavjesa podigne, iza nje je uništenje.
U rubrici Tri na jedan, osvrnut ću se na dobre i loše strane novog dokumentarca.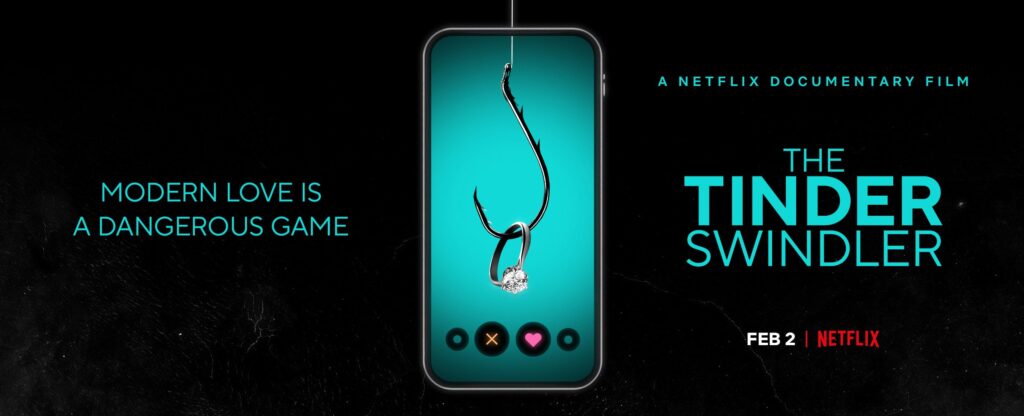 DOBRE STRANE:
1. Razvijanje priče
Nije mi ni palo na pamet da se bliži Valentinovo, pa je zato na programu Varalica s Tindera, ali brzo sam se sjetila. Bilo je teško ne sjetiti se, kad je Cecile počela pričati o savršenoj ljubavnoj priči, sretnom završetku i više od 1000 spojeva preko Tindera. Ono što je zanimljivo kad priča o svom savršenom dečku Simonu, zahvaljujući glazbi i drugim filmskim varkama, tjeskoba postaje sve snažnija. Pred kraj njezine priče njezina sreća postaje neizdrživa i vi se grozite što li će još napričati prije nego razotkrije varalicu.
2. Simpatične žene
Priča dokumentarca prati tri žene: Cecile, Pernillu i Ayleen. Svaka od njih jednako je povrijeđena, ali i jednako prkosna. A onda opet svaka na svoj način. Cecile je romantičarka kojoj je Simon natovario 250,000 dolara duga, ali koja se još uvijek nada naći ljubav svog života. Pernilla koja je Simonu bila samo prijateljica, a kasnije i jedna od prvih optužiteljica. A onda vas pred kraj zaskoči Ayleen koja je uspjela prevariti varalicu i poslati mu policiju u trag. Sakrijte se pozeri, nova Wonder Woman je u gradu.
3. Završetak
Možda najbolje (ako je to prikladno reći) od svega u ovom dokumentarcu je činjenica da je varalica Simon danas slobodan. Koliko god se Cecile, Pernilla, Ayleen i mnoge druge trudile, u koliko god država imao izdanu tjeralicu, Simon Leviev uhićen je i optužen za zločine u Izraelu gdje ć od pet godina zatvora odslužiti bezobrazno malu kaznu.
LOŠE STRANE:
1. Reklama
Iz istog razloga kao gore, Varalica s Tindera je pomalo upitan film. Da, djevojke su postigle ono što su željele, a to je da Simon više nikoga ne može prevariti. Kome god da se javi, može ga proguglati i odmah će saznati da se radi o varalici. Samo što se događa i kontraefekt. Doduše, prilično predvidljiv za današnje doba. A taj je da mu se neki još uvijek dive – što njemu što njegovom luksuznom životu koji je izgradio na patnji i uništenju drugih oko sebe – dok s druge strane krive žrtve za svoju naivnost ili ih oslikavaju kao lovatorice.
Bez obzira na namjeru redatelja, Simonu broj pratitelja ne pada nego raste. Tako da se bojim da su ovime Simona Levieva uzdigli među uzore kapitalizma kao što su Jordan Belfot ili Billy McFarland, da ne spominjem neosuđene velikane. Pomalo razočaravajuće, a onda opet… Kako to izbjeći ako se priča želi ispričati?
OCJENA: