Može vam biti simpatična ili odbojna, ali teško je poreći da je Jennifer Lopez sila prirode. Žena pleše, pjeva, glumi, producira, reklamira kozmetiku, ima svoj brand i tako već više od trideset godina. A ipak u dokumentarcu Jennifer Lopez: Poluvrijeme (Halftime, 2022) koji se od početka ljeta prikazuje na Netflixu, ima nešto što nedostaje – nominacija za nagradu Oscar. Truda ne nedostaje, ali priznanja ne prate. Šteta što jedan karijerni vrhunac kao što je bio film Prevarantice s Wall Streeta (Hustlers, 2020) ne nadmašuje nego filmsku karijeru nastavlja s filmom kao što je Vjenčanje za umrijeti (Shotgun Wedding, 2022).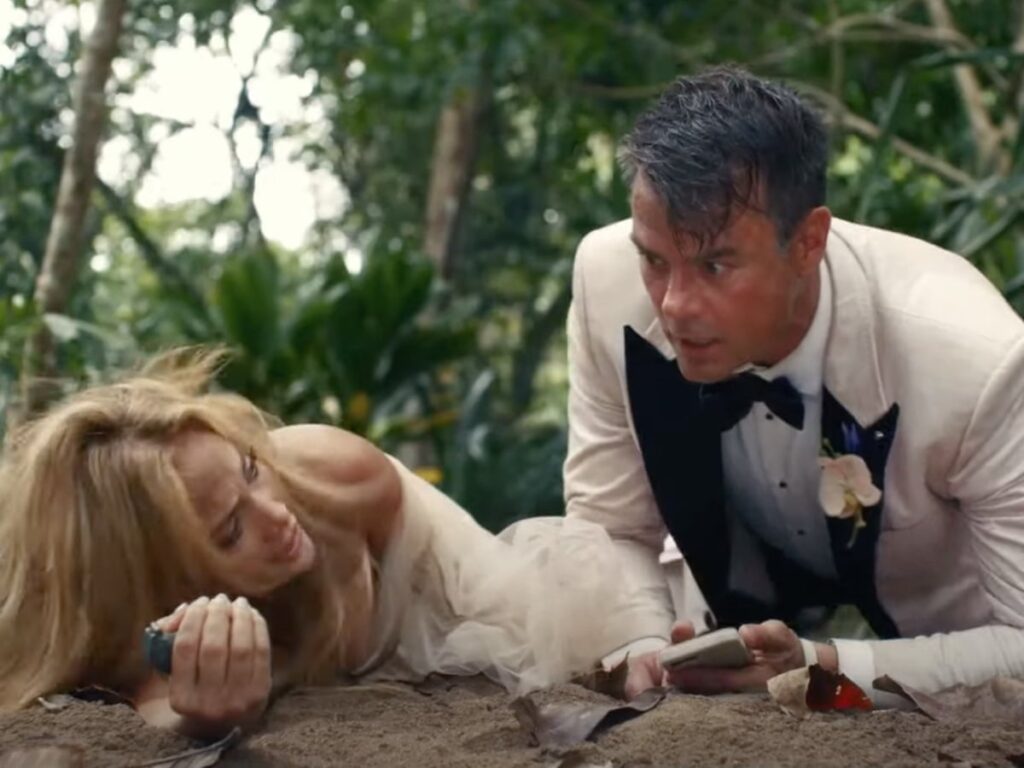 U ovom filmu, JLo je uspješna odvjetnica, a njezin budući muž – ne tako uspješan igrač baseballa. Da ne bi sve bilo predvidljivo, on je groomzilla – mladoženja opsednut organiziranjem savršenog vjenčanja, dok je JLo jedino bitno da se vjenčaju i vole. Umjesto toga, njezin budući na Baliju ili sličnom tropskom otoku okuplja njihove obitelji čije bi trzavice trebale biti izvor komedije. Ali nisu.
Na vjenčanje dolazi i Lopezin bivši dečko – Lenny Kravitz, rastvorene košulje poput kakvog modernog Tarzana. JLo-in budući osjeća se ugroženo takvim nastupom. Kako reagira? Tako da se iz nikakvog razloga, osim da se radnja odvede u smjeru u kojem je zamišljeno da film ide, mladoženja posvađa s JLo i oni odluče raskinuti zaruke. U tom naprasnom naumu ih zaustave teroristi/otmičari koji su goste uzeli za taoce. Koja im je motivacija, trebat će previše vremena i frustracije za saznati.



Dolaskom otmičara postaje jasnije kakav film Vjenčanje za umrijeti želi biti. To nije romantična komedija jer se ne bavi sretnim završetkom za ljubavnu vezu u prvom plaanu. JLo se ovm filmom pokušala pokazati kao junakinja akcijske komedije. Nažalost scene ovog filma nisu povezane dovoljno uvjerljivim zapletom. Jedva da je jasno kako su uopće međusobno povezane. Kao da film sam u sebe ne vjeruje.
Upitno je i koliko su filmu potrebna slavna imena poput već spomenutog Kravitza kao i Jennifer Coolidge. Ova glumica je odavno postala parodija same sebe i nema nikakvu svrhu u filmu osim što je prepoznatljivo lice. Njezina komedija je već višestruko puta viđena, njezin nastup prepoznatljivo, višestruko prenaglašen.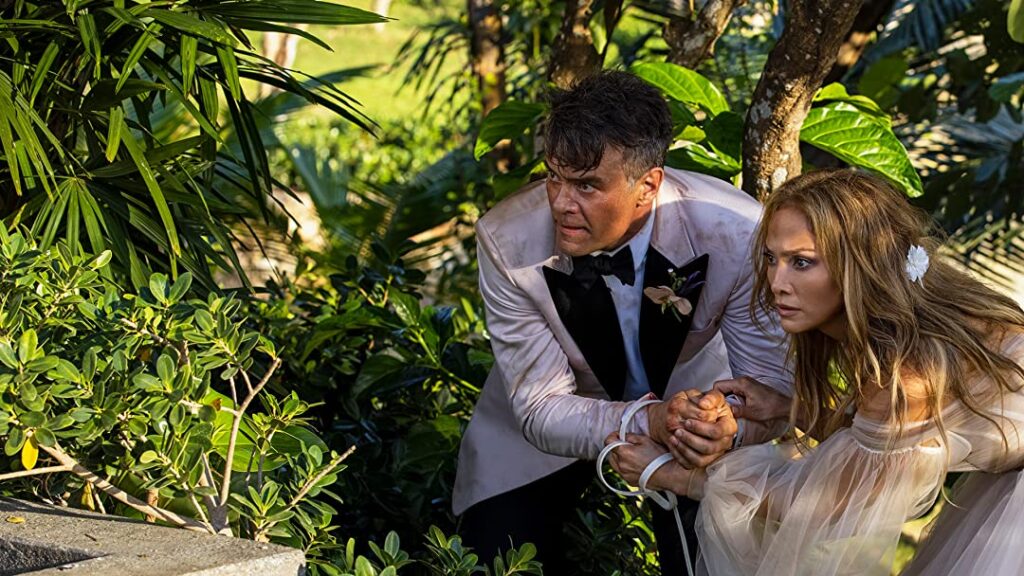 Vjenčanje za umrijeti time se plasira među niže rangirane filmove JLo. Unatoč njezinom šarmu i neupitnom talentu za komediju, film razočarava neinteligentan scenarij i teatralna gluma. Između Lopez i dragog ne stigne se razviti nikakva kemija kolko god se Lopez polugola valjala po njihovom bračnom krevetu. A rasplet priče toliko je apsurdan da ispada nenamjerno komičan.
Usprkos svoj brljotini, ono što ostaje je talent JLo. Ako ništa i iz najveće kaše uspijeva napraviti nešto probavljivo. A za to zaslužuje prizananja do neba.
OCJENA: