Što se još može imati za reći o samotnom mračnjaku i samoimenovanom pravedniku Batmanu ili njegovom alter egu Bruceu Wayneu? Tim Burton je svoj gotički stil prenio u filmove Batman (1989) i Batman se vraća (Batman Returns, 1992). Joel Schumacher odveo je strip u mnogima neprihvatljivu karikaturu u filmovima Batman zauvijek (Batman Forever, 1998) i Batman & Robin (1997). A onda je Christopher Nolan napravio dijametralnu suprotnost i Batmana stavio u svijet koji bi uvjerljivo mogao biti i naš svijet u trilogiji Vitez Tame (The Dark Knight Trilogy, 2005-2012). I to je Batman samo kada govorimo o holivudskim filmovima jer o serijama i animiranim verzijama nisam kompetentna govoriti.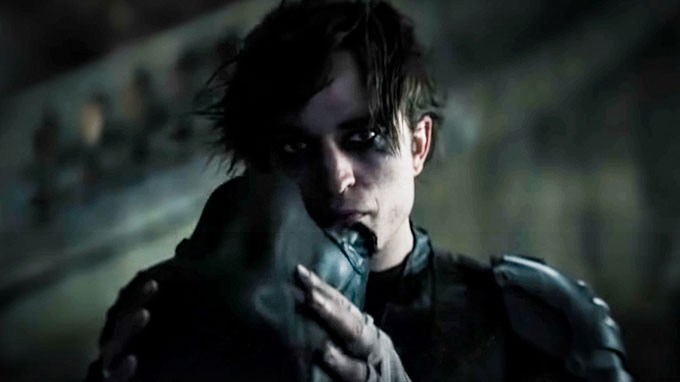 Što bi novo o već toliko prožvakanom multimilijarderu i njegovom alter egu mogao reći Matt Reeves redatelj par filmova o svijetu Planeta majmuna i kultno obožavanog Cloverfielda (2012)? Nisam vjerovala da je to moguće, ali ispada da Reeves ima za reći puno toga novoga. Počevši od stila, Reeves uspijeva ostvariti svoj Gotham. Estetka filma Batman (The Batman, 2022) često se uspoređuje s filmovima Zodijak (Zodiac, 2007) i Sedam (Se7en, 1995). Razumijem poveznicu. Riddlerovi zločini su brutalni i neugodni za gledanje. Ne samo zbog njihovog prikaza već zbog cjelokupne atmosfere u kojoj se nalaze.
Na početku filma jedna scena ima potencijal definirati ili potopiti cijeli film. To je scena kada Batman ulazi s Gordonom na mjesto zločina. On se kreće kao stroj, a njegovo robotsko geganje prati zvuk kao da mu čizme imaju vakum. Kako prolazi hodnicima, svi policajci ga drže na oku. Neki sa strahom, drugi s gađenjem. Ova scena je na rubu toga da bude smijurija. Srećom, ona je izgledom i prijetećom atmosferom toliko moćna da plijeni pozornost i postavlja uvjete na kojima će se priča razvijati do kraja fima.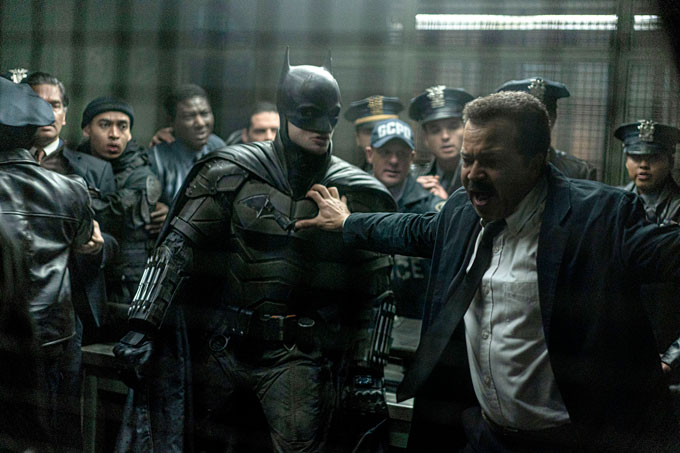 Nakon odgledanog filma mi je puno jasnije kako je Pattinson, koji je tolike godine proveo bježeći što dalje od franšiza, završio u Batmanu. Reevesov Batman je puno sličniji Svjetioniku (The Lighthouse, 2019), nego Sumrak sagi (Twilight Saga 2008-2012). Kao Bruce Wayne on je neugledna i izmučena sjena čovjeka. Povučen je i šutljiv i čini se kao da mu je najveća muka izaći iz kuće. Sakriven iza Batmanove maske on se napokon može prepustiti svojim demonima. Pattinson ovdje može unijeti puno sebe jer i sam, kako kaže, zazire od pozornosti.
Pattinsonov Batman je šutljiv i poduzetan. Ideja je bila napraviti detektivski film a ne još jedan film o superjunaku. Reevesu to uspijeva, samo što je rezultat uznemiravajuć. Ako prihvaćamo da je Batman jedan od detektiva, želimo li znati tko su ubojice? Naravno, u ovom filmu to je otprije poznati Riddler ili Zagonetač u izvedbi Paula Danoa. Maska koju nosi gotovo tijekom cijelog filma gadila mi se. Podsjećala me na nogometnu loptu napravljenu od dijelova kože za koju radije ne bih znala otkuda je. Slično je doduše bilo i s Batmanovom koja se na području nosa isticala jakim šavovima. Zahvaljujući krupnim kadrovima neprestano su mi se unosile u lice.
Iako je Riddler opasni serijski ubojica, njegova najstrašnija moć je moć manipulacije. Izokretanja stvarnosti tako da on ispadne žrtva i pronađe jednako zastrašujuće sljedbenike. S druge strane Žena mačka (Zoe Kravitz) čini se da tek staje na svoje (četiri?) noge. Njezin kostim nije u potpunosti dorađen i osim što želi pronaći svoju cimericu nema neki veći plan za Gotham. Batman joj imponira samo dok misli da joj može pomoći, ali Selina Kyle je previše svoja osoba da bi dopustila da ju se iskorištava.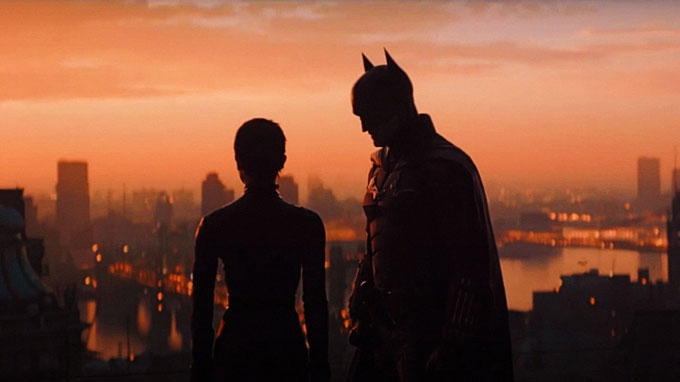 Postoji šala na internetu da se najnoviji film na engleskom nije trebao zvati The Batman – jedan jedini; već A Batman – još jedan u nizu. Ali, na temelju onog malo što znam o filmu ta šala ne drži vodu. Batman je najbolja ekranizacija stripa koju sam ikad doživjela. Reevesov Gotham pa tako i Batman zaista su nešto dosad neviđeno na filmu. Ili da se ispravim, neviđeno u holivudskoj verziji Batmana. Prvi put sam se tijekom gledanja ekranizacije Batmana osjećala kao da sam unutar stripa. Ne znam kako je to uspio, ali ciljanom organizacijom glazbe, scene i kadrova, Reeves je zbilja napravio strip koji se pokreće. Ponekad je to zamorno jer neki kadrovi traju bolno predugo. Ali bez njih ta odabrana estetika bi propala u vodu i ne bi bilo jasno što je pokušao izvesti.
Svijet koji je prikazao Reeves nije mi lijep ni uzbudljiv. Bruce Wayne čini se kao blagi depresivac u najboljem slučaju, dok je Batman u najboljem slučaju suzdržano zastrašujuć. Sjećanje na film me ne pušta baš kao što se to događa s najboljima. Iako sam u kinu sjedila samo 3 sata, osjećam se kao da sam u Gothamu provela duže i jedino što mi je preostalo da ga se sjećam sa strahom i nostalgijom. U ovom filmu Bruce Wayne se užasno malo pojavljuje. Njega je potpuno preuzeo Batman. A ako mu dopustite, preuzet će i vas.
OCJENA: