Pa je li to moguće?! Pomislila sam kad sam odgledala nekoliko prvih epizoda serije Crno-bijeli svijet koja se prikladno usprkos ovim tmurnim danima reprizira na programu HRT-a. Napokon jedna uzbudljiva, zanimljiva hrvatska serija koja izaziva ovisnost. Serija Crno-bijeli svijet je potpuno suprotna svom monokromnom naslovu – puna je života.
Ne mogu se odlučiti je li to zasluga scenarista koji su uspjeli u tome da svi zapleti teku uvjerljivo, dok nas zavrzlame nasmijavaju; je li to zasluga glumaca koji osvajaju svojom prirodnom toplinom ili je tu najzaslužniji redatelj koji je znao kako ih sve pravilno usmjeriti. U svakom slučaju, po prvi put nakon jaaaaako (da, baš jaaaako) dugo vremena na televiziji imamo čast vidjeti likove od krvi i mesa sa težnjama i nagonima s kojima se svi možemo poistovjetiti i suosjećati.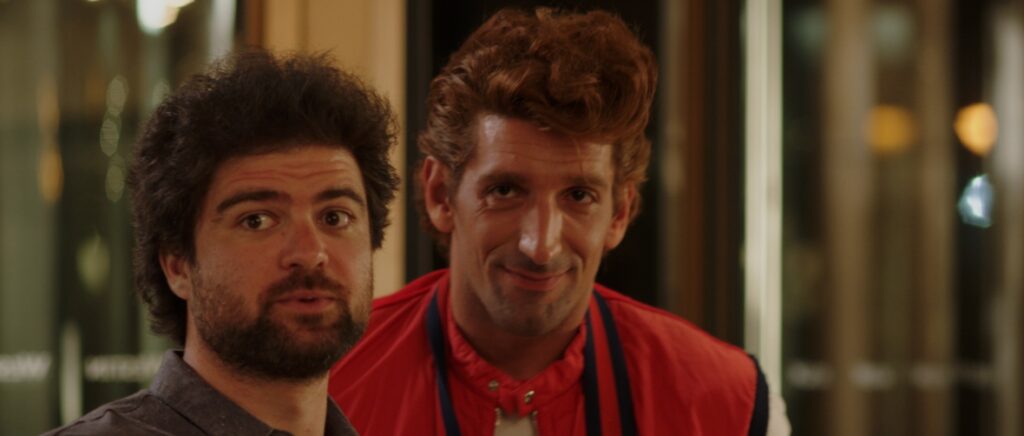 Serija, ako ste ju uspijeli propustiti dosad, prati život novinara Kipa i njegove uže i šire obitelji i prijatelja. Početkom osamdesetih godina, naše likove radnja provodi kroz raznovrsno tkanje zagrebačkog i jugoslavenskog društva. 
Vrlo rijetko, ali dođe i do besmislenih i bezrazložnih zapleta baš na početku svake sezone. U prvoj je to skriveni drugi brak Kipove mame Ksenije i novog muža Dominika. U drugoj je to psihička bolest Kipovog prijatelja Žungula, a u trećoj je to nerazjašnjiv pomak u devedesete na početak Domovinskog rata. Strpite se i strpljenje će vam se isplatiti. Čim završite prvi krug okreta očima, već će vas netko nasmijati ili razdragati.
Od samog početka pojavit će se tu i Gobac i Stublić i mnogo drugih prepoznatljivih imena alternativne scene. Ipak, pravo srce serije nalazi se baš u našim junacima. Kipo je divan kao studentski novinar i ženskaroš koji se zateleba u kolegicu. Njegov najbolji prijatelj Žungul odlična je podrška kao i sudionik u stvaranju nevolja. Mama Ksenija je ujedno dirljivo brižna koliko i opasna, dok je Dominik milina od dragosti. Mlađi brat Žac je tipičan teenager prepun često krivo usmjerene energije, a polusestra Una jedna je od nekoliko potpuno obarajućih ženskih likova – pametna, energična i samouvjerena.
Vjerodostojnost seriji vjerojatno pridonosi i prirodan govor. Napokon da čujemo hrvatski kao da je snimljen s ceste, a ne kao da već satima trpimo neke klasične monologe. Ono što je opuštajuće su zapleti čije razriješenje nije nešto što će označiti razliku između života i smrti. Crno-bijeli svijet bavi se jednostavnim, svakodnevnim problemima unutar kruga obitelji kao što su nezadovoljstvo bivšim partnerom ili situacijom na poslu, loše ocjene i završavanje faksa, nevažne razmirice, te ono neizbježno – podrška obitelji i potraga za pravom ljubavi.
Naivna? Ma, naravno! To je ipak samo jedna komedija. Ali nadasve poučna, zabavna i najbitnije: srdačna. Uživajte!
OCJENA: