Na zapadu ništa novo (Daniel Brühl, 2022) daleko je od ratnih filmova na koje smo navikli. U njima mladi i samouvjereni Amerikanci najčešće dobiju tešku lekciju o stvarnostima rata, ali gotovo uvijek usput nauče kako biti galantiniji i junačkiji. Nijemci od začetaka filmske industrije nemaju pravo svoje buduće heroje stavljati u vojne uniforme. U Prvom svjetskom ratu su izgubili, a u Drugom sablaznili. Zato je možda Na zapadu ništa novo i izazvao toliko zanimanje. Da napokon okrenemo naličje medalje najvećih stradavanja u prošlom stoljeću i proživimo užase rovova iz perspektive drugog.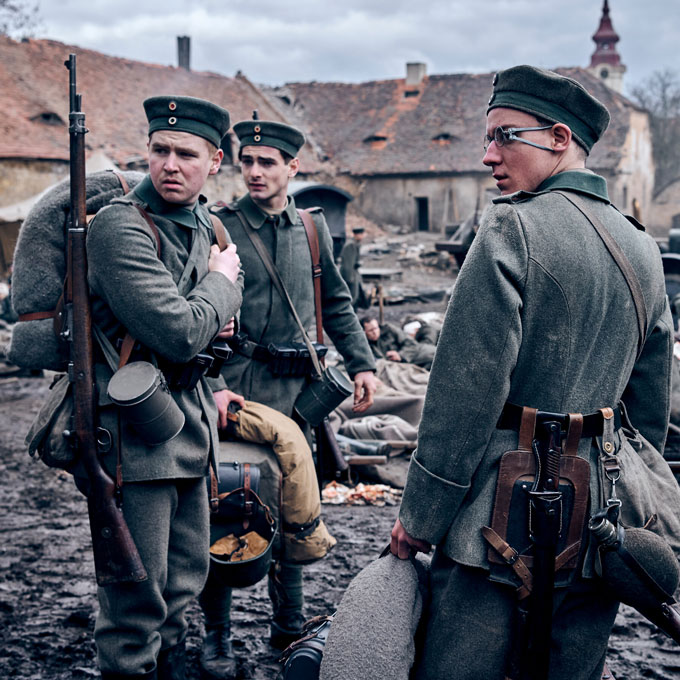 Zrcalni motivi najzanimljiviji su dio ekranizacije romana Ericha Marie Remarquea, iako nisam sigurna kako ih interpretirati. Višekratno su njemački vojnici uprizoreni u slike koje nedvojbeno podsjećaju na već stereotipne prikaze konc-logora na filmu. Na početku su to kratke crtice koje bi mogle i ne moraju biti povezane s holokaustom. Glavni junak Paul (Felix Kammerer) nije dovoljno brzo stavio gas masku pa ju mora nositi cijelim putem do rovova. Sljedeće, netko spomene kako se težak rad isplati, tj. rad oslobađa?
Najzačudnije je kada mladi vojnici nađu 60 nestalih kako leže jedan preko drugog kao da su u plinskoj komori jer su prerano skinuli svoje gas maske. Sin francuskog farmera kojemu izgladnjeli vojnici kradu guske i jaja hladan je i zastrašujuć, iako podsjeća na obrijanu djecu koja će par desetljeća kasnije trčati po logorima. A ne treba ni zanemariti okrutnost na licima francuskih feldmaršala koji njemačkim predstavnicima primirja ne žele dati niti jedan ustupak. Njihova 'okrutnost', znamo, dovodi do uspona nacizma i horora Drugog svjetskog rata.
Paul, koji se lažno predstavio kao punoljetan triput se nađe u situaciji u kojoj vojnik sa suprotne strane zrcali njegove vlastite postupke. Svaka od tih scena je uznemirujuća. U prvoj se u dubokoj bari bori za opstanak protiv vojnika kojeg mora brutalno ubiti da bi preživio. U drugoj odluči ne podijeliti svoj obrok samo da bi spletom okolnosti taj isti vojnik imao na sebi jednak izraz lica kada mu ga pojede. A na samom kraju strada baš kao i mnogi koje je sam eliminirao za opstanak.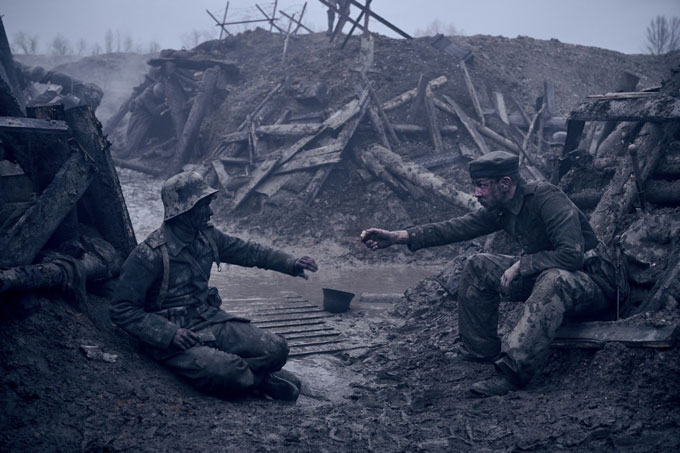 Scene potresnih strahota borbe, masakriranja i tenkova isprepletene su dugim i zahtjevnim scenama mira i dosade. Na kraju filma ostaje dojam gađenja i muke nad kaljužom u kojoj smo proveli dva sata, ali likovi ostaju prilično neprepoznatljivi. Kao da niti jedan nije potpuno oblikovan iz blata s kojim se saživio.
Nameće se pitanje koju poruku Na zapadu ništa novo želi poslati. Da su i obični, nadobudni nijemci upali u klopku ratnog idealizma iz koje su izašli kao živi mrtvaci? Da je patnja 'običnog čovjeka' jednaka neovisno o političkoj pripadnosti? Da su njemačka stradanja usporediva sa stradanjima koja su nanijeli dvadesetak godina kasnije?
U neku ruku, ove 'opasne' usporedbe su dobrodošle. S razlogom ih rijetko imamo priliku vidjeti, ali to ne znači da nisu potrebne. Do kraja filma imala sam potrebu vidjeti nešto odvažnije, nešto suvremenije, nešto dirljivije. Pa makar i dobronakloni prikaz 'običnih' nacista. Onih u kojima se da prepoznati mnogo toga iz nas samih. Takvo zrcalo bilo bi pogodno za dublje rovarenje unutar sebe u potrazi za onime što nas čini 'dobrima', a 'njih' lošima. Strepnja od sličnosti u zrcalu uzrokovala bi zazor i odbojnost. A iz toga bi (idealno) proizašle mnoge diskusije i ultimativno rast ličnosti prema boljoj. Školski pristup grozotama rata nažalost opravdava svoj naslov. Na zapadu… – ništa novo.
OCJENA: