Sinoć sam razgovarala s mladom primaljom. Toliko mladom da je još u školi. "Obožavam doktorske serije," spomenula je. Zanimljivija informacija je bila da će kasnije ovog tjedna prisustvovati sekciji. Ne znam što je sekcija, ali zvuči uzbudljivo. Zato sam se i sjetila serije Ovo će boljeti (This is Going to Hurt, 2022) koja me osvojila prije par mjeseci.
Seriju predvodi Ben Wishaw inače najpoznatiji kao novi Q u filmovima Jamesa Bonda. U Ovo će boljeti on je mladi ginekolog Adam (doslovno – Junior Doctor) koji požrtvovno radi svoj posao. Samo što ga ta požrtvovnost košta. Košta ga sna, zato ponekad zaspi na parkiralištu. Kad se probudi vrijeme je da ponovno krene na posao. Košta ga u vezi jer rijetko stiže na dogovorene spojeve i preumoran je za grupna druženja. Košta ga i doslovno novaca jer je na njemu odgovornost da kupuje vlastitu zaštitnu opremu koja prečesto završi prekrivena tuđim tjelesnim izlučevinama. Čitaj – u smeću.
Doduše, koliko god da karijeru stavlja ispred privatnog života i obaveza; kada treba isto napraviti za kolege to je potpuno druga priča. Shruti (Ambika Mod) bi trebala biti njegova štićenica. Osoba kojoj on prenosi svoja znanja kao što su ih prenosili njemu. Umjesto toga on je prema njoj odriješit i uvredljiv. On je hodajuća definicija maltretiranja na radnom mjestu.
Serija Ovo će boljeti snimljena je prema istoimenoj knjizi bivšeg liječnika Adama Kaya. U njoj on iskreno postavlja zrcalo na dobre i loše strane zdravstvenih djelatnika. Nitko nije ni potpuni demon, ali ni potpuni svetac. Da bi bili demoni im je previše stalo, a da budu sveci su preforsirani i nisu dovoljno plaćeni.
Pa zašto se muče po tim javnim bolnicama? U Engleskoj sigurno ima dovoljno privatnih zdravstvenih ustanova kao i ljudi koji si ih mogu platiti. Da. Samo što su te ustanove usavršile samo dojam koji ostavljaju. Struku i pripremljenost za nepredviđene situacije gotovo uopće ne. Tako Adam završi s kompliciranim porodom natrag na svom vlastitom odjelu u javnoj bolnici. Tu počinje i shvaćati da baš nema izbora ako želi biti dobar liječnik. Koliko god se nadao bijegu iz neodržive svakodnevice, ako prihvati posao u privatnom sektoru razine njege koju može pružiti samo će pasti.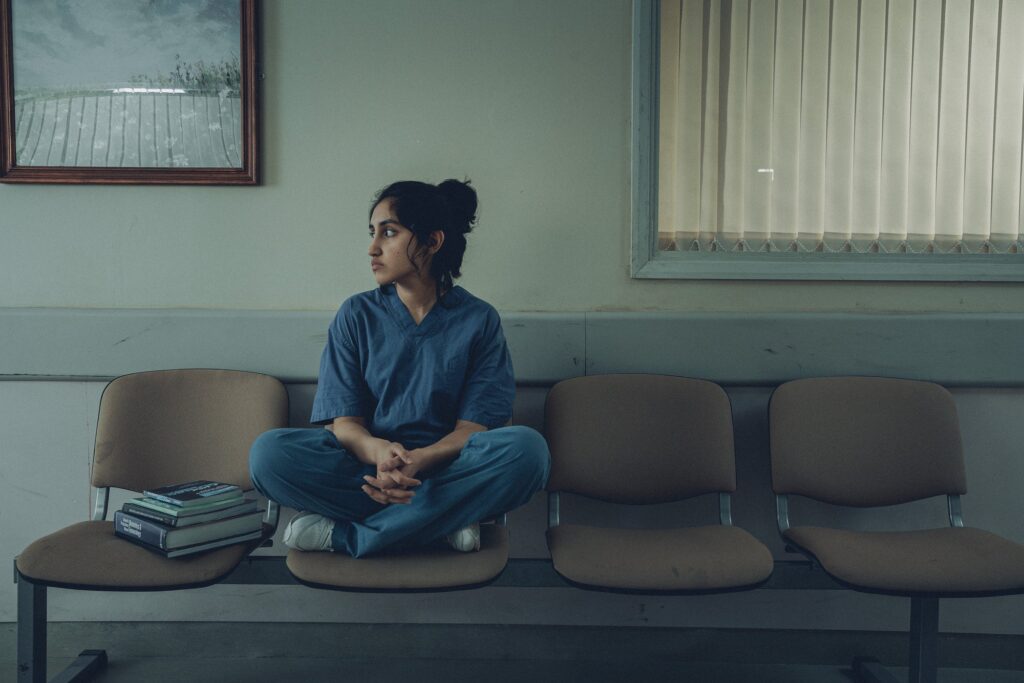 Od prve epizode, Adama muči i osjećaj krivnje. Zbog njegove krive reakcije jedno nedonošće je na intenzivnoj njezi. Njegovoj traumi vjerojatno ne pomažu prijetnje tužbom koje dobiva od obitelji. Svo vrijeme, on se nema kome okrenuti. Da, ima brižnog dečka koji je posebno strpljiv. Ali kada cijeli dan proživljavaš muke, ne želiš ih onda ponovno prepričavati nekome tko ima običan posao. Ne samo da nema vremena za kvalitetne veze bile one intimne ili prijateljske. On nema vremena ni da zatraži psihološku pomoć. Englesko javno zdravstvo pravo je bure baruta.
I zašto bi onda itko bio tako lud da gleda taj čemer, pitate se? Zato što, kao i sve u životu, serija Ovo će boljeti prožeta je i humorom i osjećajima, a ne samo jadom i bijedom. Prikazuje svijet koji ne vidimo tako često i ispituje granice ljudske izdržljivosti – što u poziciji liječnika, što u poziciji ljubavnika i prijatelja. Ovi likovi, pogotovo Adam i Shuti, još dugo će ostati s vama. U krajnju ruku, ovo su ljudi kojima se teško povjeriti. Zašto onda ne poslušati njihove boljke barem na ovaj način?
OCJENA: