Da sam znala da je glavni glumac Palm Springsa (2020) Andy Samberg poznat po svojoj ulozi u seriji Brooklyn 99 (ne, nisam gledala), vjerojatno nikad ni ne bih pogledala ovaj hvaljeni film. Palm Springs izazvao je svojevrsnu medijsku senzaciju tamo negdje na početku pandemije. Gotovo univerzalno kritičari su ovu preradu Beskrajnog dana (Groundhog Day, 1993) hvalili na sva usta. Da sam još uvijek bila pretplaćena na Amazon Prime, vjerojatno bih ga pogledala još tada. Osim Teneta, malo toga se događalo na polju kinematografije. Ovako sam odgađala sve dok ga jednu večer nisam primijetila na Novoj TV oko ponoći.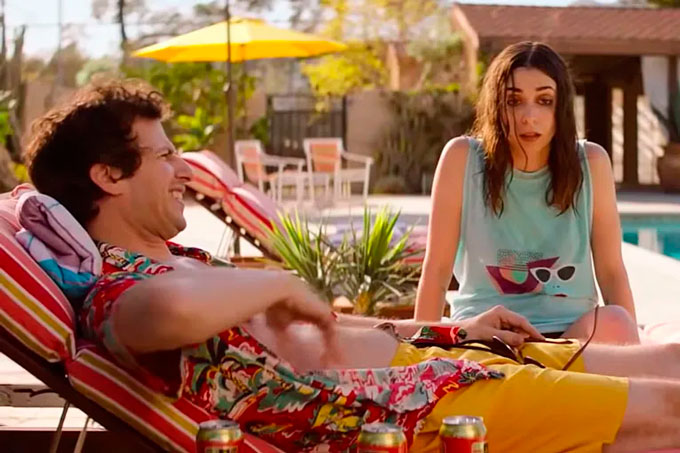 Iako me film privlačio i bila sam sigurna da će biti barem solidan kada je toliko popularan, s puno skepse čekala sam da me osvoji. Samberg kao Nyles zapeo je u vremenskoj petlji. Već je beskrajno puta proživio dan vjenčanja na kojem je gost. Ali na dan u kojem ga mi upoznajemo on dobiva suputnicu Sarah (Cristin Milioti). Kada vidi da je Nyles u opasnosti slijedi ga u pećinu gdje i sama postaje žrtva vremenske petlje.
Na prvu sam bila malo nezadovoljna cijelom izvedbom. Izgled filma dosta je jeftin i jednostavan, a glavni glumci izabrani su da budu gubitnički duo s kojima se možemo poistovjetiti. Njihov humor, kao što to često biva u uvrnutim američkim filmovima bazira se na sarkazmu i samoživosti koje naravno tijekom svojeg 'putovanja' nauče odbaciti.
Na sreću, koliko god ovakva priča bila već viđena i predvidljiva, ona nije dosadna. Da, Nyles i Sarah prvo dane provode radeći spačke. Onda ozbiljno pričaju o životu. Onda se posvade jer je Nyles odustao a Sarah se nada naći način kako se izbaviti… Bez obzira na sve, Nyles i Sarah uzbudljivi su protagonisti. Priča Palm Springsa prepuna je malih detalja koji ju ipak čine različitom od drugih. Jedan od njih je sigurno i J.K. Simmons kao Roy. Koji želi da Nyles na vlastitoj koži osjeti koliko se ljuti što ga je uveo u vremensku petlju. Doslovno, na vlastitoj koži. Kada god može, on pronalazi Nylesa i muči ga do smrti.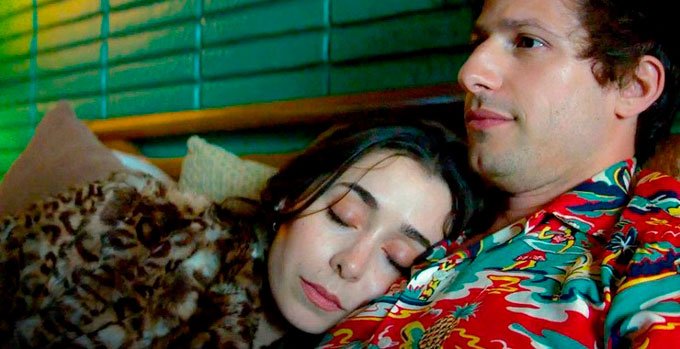 S druge strane Sarah – presudna za dovođenje priče kraju, umjesto da se preda ona svoje dane iskorisiti kao bi naučila kvantnu fiziku i patentirala način da svi pobjegnu iz vremenske petlje. Sjetimo se, da nije bilo njezinog suosjećanja, ne bi ni pošla prema vremenskoj petlji za Nylesom. Ako to nije primjer 'snažne ženske uloge' onda ne znam što je.
Palm Springs je film koji od vas ne zahtijeva previše pažnje ili angažmana. Priča se lako prati. Ali htjet ćete mu dati pažnju. Ipak uspijeva tamo gdje je najbitnije. Šale nasmijavaju, zapleti su napeti i na kraju izazove uzdah dragosti. Nekad više od toga niti nije potrebno.
OCJENA: