Jednako kao što nostalgični ljubitelji rocka smatraju kako je najbolja glazba ikad snimljena 80-ih, tako i ljubitelji akcijskih filmova žale za zlatnim dobom pucačine i blesavog sarkazma. Nikad neću razumjeti zašto produkcijske kuće misle da je za uspjeh i kultni status akcijskog filma potrebna veća eksplozija kad svi znamo (Znamo li?) da je potrebna samo glupa šala glavnog lika za kojeg navijamo. Velike eksplozije i bombastična spuštanja zlikovcu spadaju u dva različita filmska žanra.
Kad je započela najavna špica filma Potpuni opoziv (Total Recall) bilo mi je jasno da će ovo biti film po mom ukusu. Osjećala sam se kao da sjedim u nekom underground njujorškom kinu i gledam nešto potpuno drugačije. Oštri ritmovi u kombinaciji s crvenim naslovom i popisom postave najavljivali su uzbudljiv, veseli film. Ako znate išta o filmu Potpuni opoziv onda znate i da sam bila jednako toliko u pravu koliko u krivu. I to je divota ovog filma.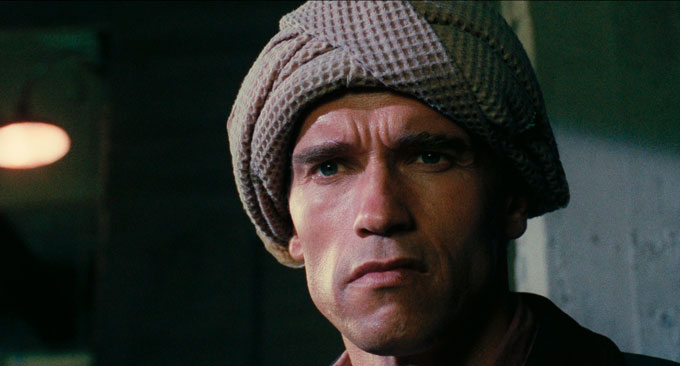 Tri puta sam iznenađeno uzdahnula tijekom filma Potpuni opoziv – prvi put je bilo kada sam napokon razumjela distopijsku premisu. Drugi put je bilo kada zlikovci ganjaju Schwarzeneggera, a on sazna da mu je tragač instaliran u glavi, a treći put kada ga u hotelskoj sobi na Marsu posjećuje doktor koji mu govori da si je on sve to malo umislio.
Ne mogu dovoljno puta reći: Uz-bu-dlji-vo! Možda je to tajna zabavnog akcijskog filma – red zabave, red pucnjave, red erotike (pričekajte da vidite kao izgleda kupleraj na Marsu). Ali ono što ga čini posebnim je ozbiljna, tragična premisa distopijske budućnosti u kojoj jedni plaćaju za ljepša sjećanja, a drugi za zrak.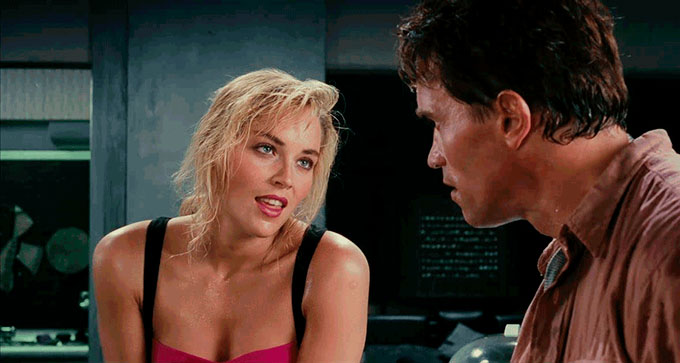 Iako je stvarnost likova u filmu Potpuni opoziv groteskno loša, ona se tijekom filma ne propituje, o njoj se ne moralizira. Naši glavni likovi nisu heroji – pa čak i Schwazenegger. Oni su obični ljudi koji pokušavaju shvatiti i ostvariti bit svojeg postojanja.
Na gledatelju je da se zgraža nad nemoralom i zlobom milijarderskih korporacija, trgovanju zrakom i segregaciji nepoželjnih. Zato Potpuni opoziv ne smara svojom politikom kao mnogo drugih akcijskih filmova od (ovo mi prvo pada na pamet) 96 sati (Taken, 2008) do Osvetnika (The Avengers). Tko hoće analizirati politiku može, tko hoće gledati Schwarzija kako trči kao preplašena curica isto može. (Obratite pažnju na njega kada prvi put trči prema podzemnoj – neprocjenjivo.)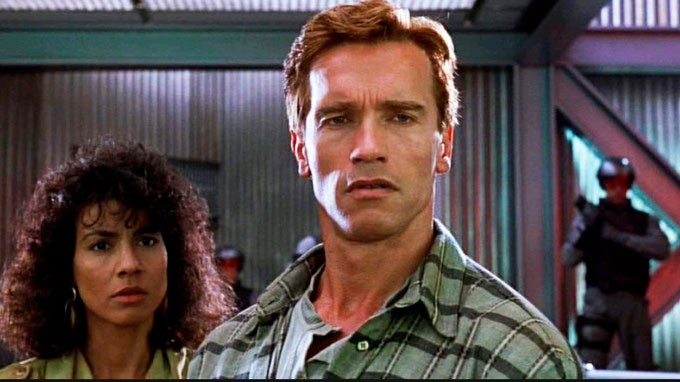 Važno je spomenuti i dvije divne ženske uloge Sharon Stone i Rachel Ticotin (pa nije samo jedna dovoljna za Arnija). Obje su na svoj način zabavne i uzbudljive, ali i opasne. Njihovo prisutstvo služi da Arnija približe ili odvuku od cilja.
Sve u svemu, Potpuni opoziv je bio neočekivano iskustvo koje je vjerojatno poboljšala činjenica da sam ga gledala u kinu, da nisam znala ništa o njemu, da mu je premisu osmislio Philip K. Dick, da ga je snimio Paul Verhoeven, da su glavni glumci prikladni radnji.
Eto, što više o njemu razmišljam to više izlazi iz sfere trivijalnog u sferu promišljenog i zato uspješnog kultnog klasika.
OCJENA: