Početak 2020. godine po mnogočemu je bio uzbudljiv za jednog filmofila. Godina Parazita (Gisaengchung, 2019), Ponoćne obitelji (Midnight Family, 2019) i briljantnog Queen & Slim (2019). A bila je to i godina kada je Top Gun 2 tj. službenog naziva Top Gun: Maverick nakon više od 30 godina trebao doći u kina. I onda naravno pandemija pohara svijet i mi srećon ostanemo samo bez blockbustera. Odjednom portal wetransfer postane jedan od najbitnijih načina prijenosa podataka između ljudi udaljenih kilometrima ili pandemijskim mjerama.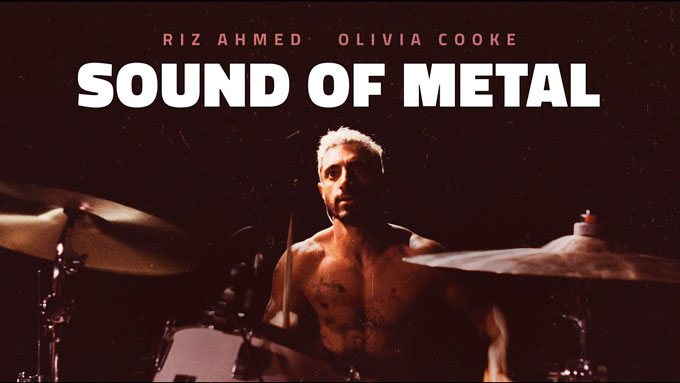 I dok sam tako nevezano uz film čekala da mi se pošalje neka velika datoteka, WeTransfer mi ponudi da pogledam kratki film The Long Goodbye. Tako otpočne moja opsesija likom i djelom Riza Ahmeda – zvijezdom filma Zvuk metala (Sound of Metal) koji sam dobila priliku gledati u Kinu Kinoteka.
Zvuk metala pridobio me čim sam vidjela poster za film. Bubnjar bez majice prekriven tetovažama žedno čeka mig. Kompetencija debitantskog redatelja Dariusa Mardera očituje se u prepoznatljivim i očekivanim prvim kadrovima. Našu žeđ odmah utaži prikazom grunge metal benda i njihovog mobilnog doma – kampera kojem mikseta zauzima više prostora nego krevet. Ruben (Riz Ahmed) i Lou (Olivija Cooke) žive za glazbu.
Ni dvije scene dalje, Ruben naprasno ostaje bez sluha. Potpuno nam je jasno da to znači da time ostaje i bez partnerice, i bez benda i bez turneje. Bez doma i bez novca. Par poziva zabrinute Lou sredi mu boravak u komuni za gluhe osobe gdje bi se trebao naučiti nositi sa svojim novonastalim stanjem.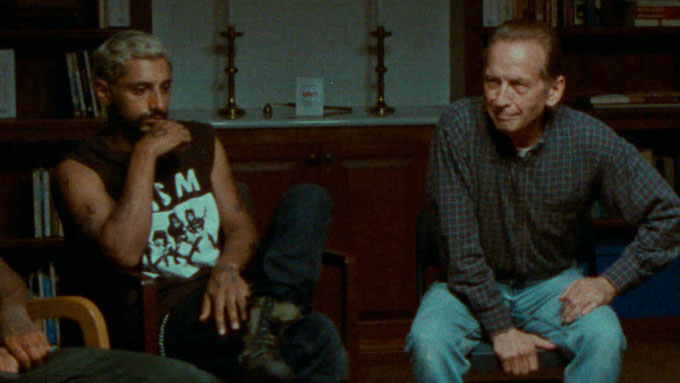 Rubenovim dolaskom u komunu koju predvodi Joe (Paul Raci) otvara se glavna tema filma Zvuk metala. Kako netko tko ne pripada nigdje i tko je više-manje samodostatan nauči biti članom zajednice i pridonositi drugima unutar nje. Jer Ruben nije samo bubnjar. On je bivši ovisnik o heroinu koji se ne usudi sjesti sam sa svojim mislima na što ga njegov gubitak sluha prisiljava. Ruben je zarobljen u svojim mislima u novom svijetu.
Marderov prvijenac Zvuk metala pruža izniman zvučni doživljaj koji smiruje ili grebe bubnjiće kako kada treba. Ovaj film najbolji je baš tamo gdje je manjkav. Osim zvuka, redatelj nam uskraćuje i velike dijelove verbalne i neverbalne komunikacije, jednoznačne pokazatelje protoka vremena i jasan razvoj likova. Ali moguće je da je baš zbog toga film toliko prožet osjećajima.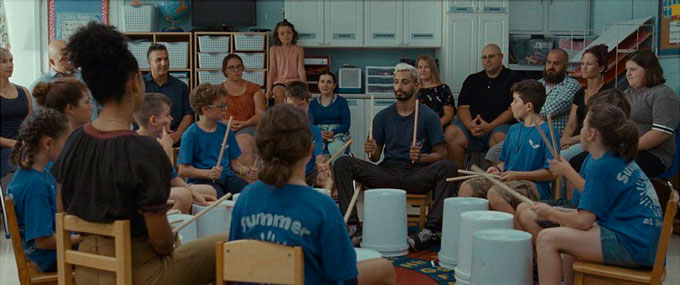 Zvuk metala često se doima poput popodnevnog sna. Pruža utjehu čak i kad se probudimo potpuno dezorijentirani. Film ne daje jasne odgovore kao ni jasne zaplete, ali ostavlja neuklonjiv trag, baš poput tetovaža kojima je prekriveno Rubenovo tijelo.
OCJENA: